A variety of stuff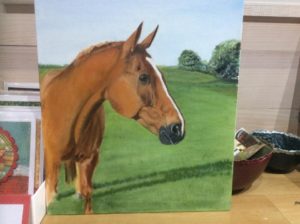 This painting is so realistic by Chris – it's her favourite subject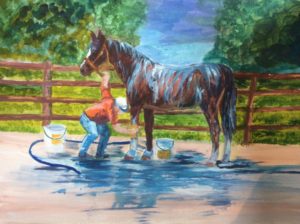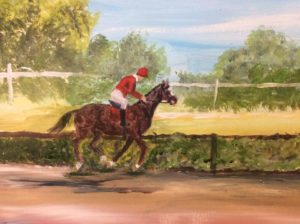 And another couple of horses, this time from Patrica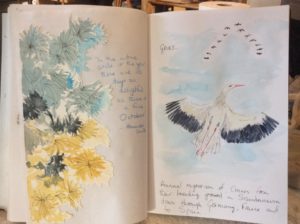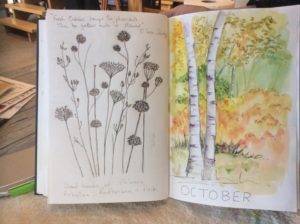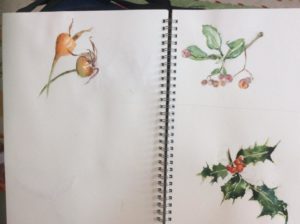 Some beautiful journal paintings from Dawn (F) and Frances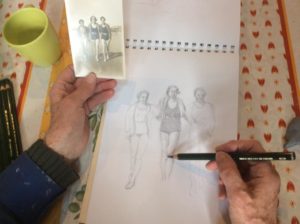 And from Dawn (S) a study of an old photograph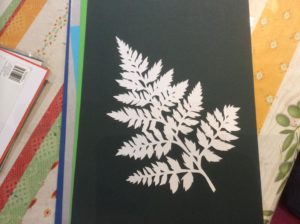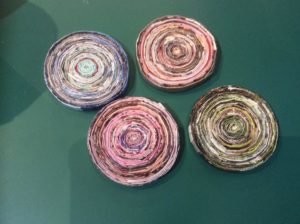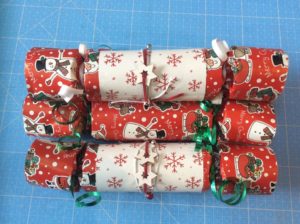 Some Christmas crackers and presents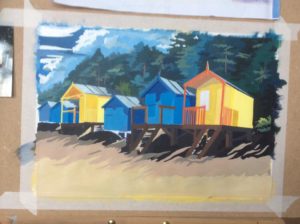 Steve is doing another gauche painting in the style of the old railway posters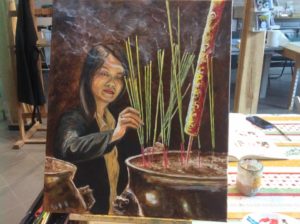 Colin has finished this beautiful painting
and another couple from Patricia
A couple of poems
In a Shady Nook by a Babbling Brook.  
All large rivers intrigue us –
Our servants since time came upon us.
We harness you to our needs,
You, reluctant, always comply and resign yourselves to us.
Smaller rivers seek quiet countryside to hide . . .
Then delight us!
You calm and caress us.
You peel back our days when you flow before us.
We pursue a wonder at your clear water.
Moving without hurry,
Untroubled,
You return here.
A joy you declare here in these moments.
You demand that we
Be still,
To soak in this serene scene and
Pay homage to this ageless stream caressing its bed of silent stony sand.
The stream is Home to delicious intrigues of living creatures.
They are happy in its changing depths,
Its shallow sand pools.
Upon its mossy banks, broken branches hide many mysteries
Of unseen, alone, creatures,
Busy with their business of this day.
Even they pause to take in this scene of magic they call home.
Do not simply stand;
Take time to sit, to count your fortune already deposited
Here in these moments.
Please your mind,
Sense your good luck,
Take hold of the colours of this life.
The sounds are babbling over the changing layers,
Not still; always gentle.
What luck to visit this haven by chance.
And capture forever this awaking memory.
Look to the cloud above that adds a silent cover to favour this agreeable space.
Then . . .
Kingfisher races your heart
Skimming his river to drink cool life of the day.
Stay oh stay.
by Brian Wilkinson   July  2019 .
My Mind is Leaking Memory
It takes much longer now to find
Those treasures stored inside my mind
And things I once so carefully wrapped,
I open up but find they're cracked.
And oh, the dust is settling fast,
Obscuring all my precious past.
That speech, that book, that lovely time –
Where are they now? I see no sign –
But there's a flash and there's a shade –
A recollection yet to fade.
I leap to catch it, hold it close,
Breathe life into this half-formed ghost.
My mind is leaking memory.
Soon there'll be nothing left.
by Jenny Gilbert  
A busy summer
Lots of family and friends visiting this summer. Thomas (5 and a half) loved coming into the art group while he was here. He liked doing junk modelling and painting.
Patricia has been very prolific as usual
Two beautiful paintings from Colin – one not finished yet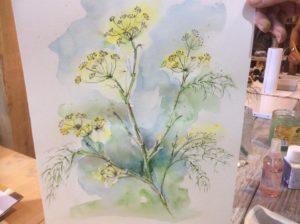 I always love whatever Jackie or Dawn do – usually always watercolour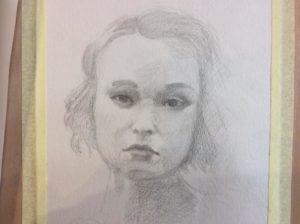 This stunning pencil drawing is from Dawn S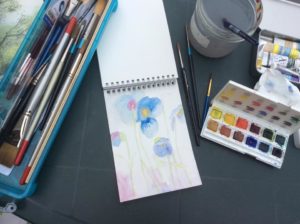 One of our guests, Janet, brought her watercolours with her even though the group was not open  while she was here. She is really improving
I felt the need to paint cornwall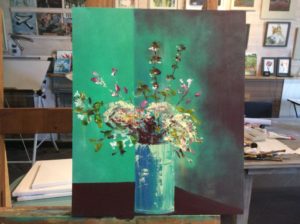 This painting started off as a Cornish landscape as well but it just wasn't working for me so I painted over it and turned it the other way round. I think I will do this more often !