Happy New Year
Jeudi Art is having a break during January but I have been busy thinking about courses for 2018 and making some stuff.
How about this for a needle felting project. It is rather big to do in a day's workshop so I am working on something smaller.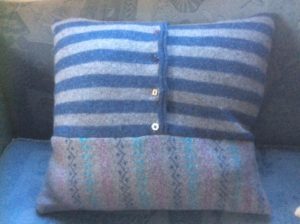 This is an idea to make cushion covers from old cardigans and jumpers. Here is one I made earlier.
Another course we were thinking about was lino printing. This was very popular a few years ago and with a bit of research, we thought we could instruct the course ourselves.
An exciting addition to our activities will be the regular life class that will be happening every other Saturday afternoon. It starts on 10th March through until June and I hope that it's success will mean that it continues further into the year.
The website will be updated soon and Jeudi Art will re-open in February as long as the weather holds.
Wishing everyone a very positive 2018 !