Tuesday mornings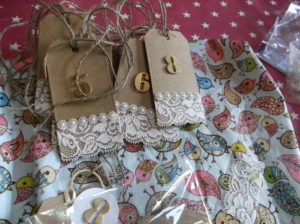 Gill was making some tags for jam jars filled with Spring flowers for her daughter's wedding. We want to see them in situ, Gill.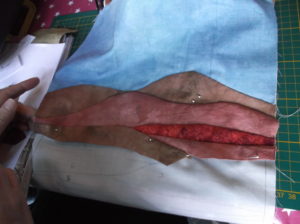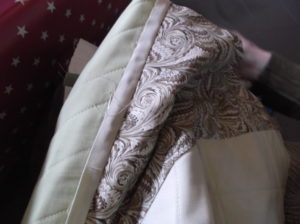 Alice and Laura both had sewing projects on the go.
Sally Anne and Patricia were painting
Margaret and Jeanette were knitting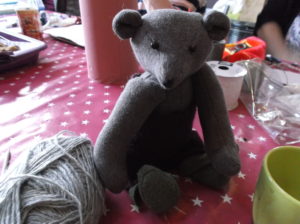 … and here is a little jointed teddy bear that I have been experimenting with
This morning we did a bit of French polishing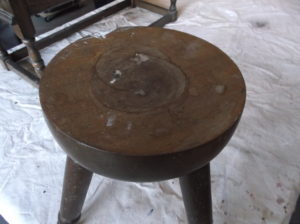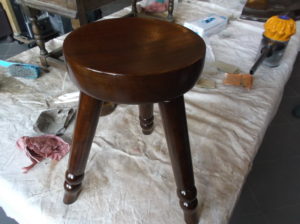 Before and after – a little walnut stool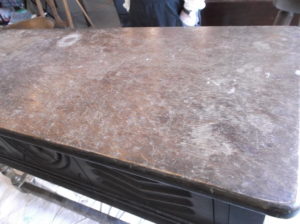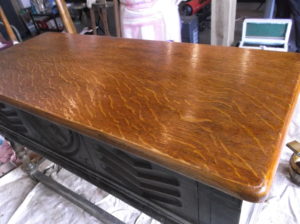 Before and after – an oak table – amazing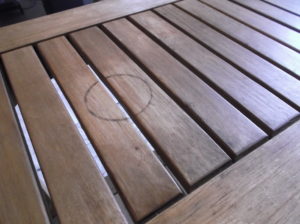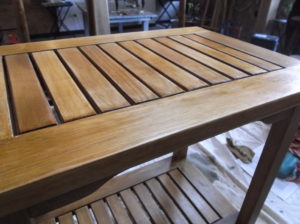 Before and after – we think this was teak – some elbow grease got rid of the ring mark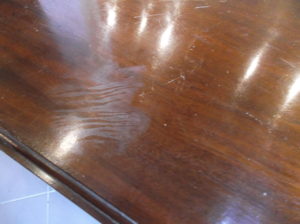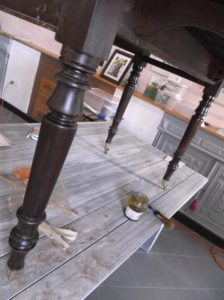 Bob brought in a beautiful table that had marks on the top but he decided to work on the legs.
A really good morning with everyone very happy with the results.
another cold morning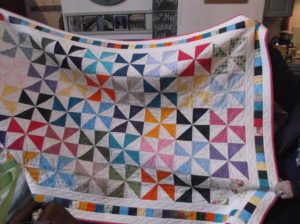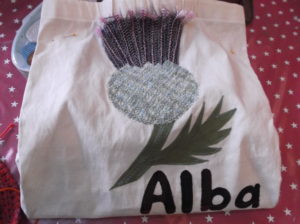 Magaret brought in a beautiful quilt that she had finished and I noticed her bag with the thistle. Alba is apparently an old name for Scotland.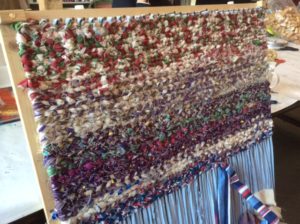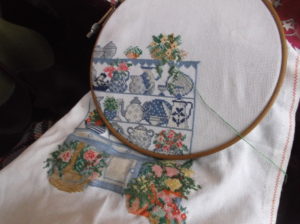 Jeanette and Hilary have nearly finished their projects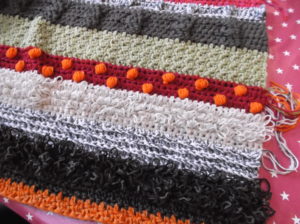 Alice was crocheting a throw with all her odd bits of yarn. Absolutely stunning.
The first week open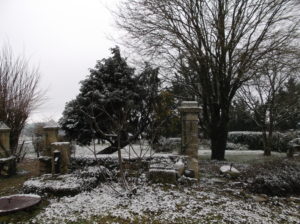 It snowed ! but nevertheless we had a good turn out.
Lots of different activities – painting, needle felting, lampshade painting and mosaicing (is that a word?)
Bertie the Bear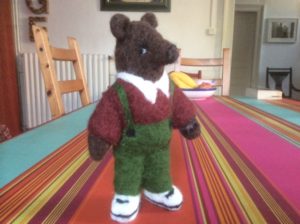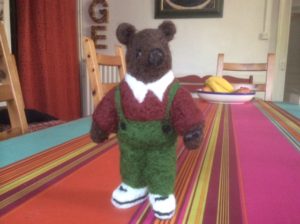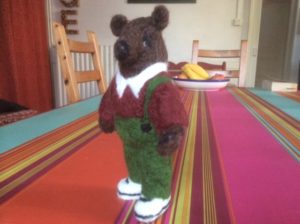 This is the latest needle felting project. I am experimenting in order to eventually do a workshop. This chappy took too long to make but it was good practice.
Jeudi Art starts again on 6th February
We are starting again soon and already we have organised a another workshop for doing French Polishing on 24th February. On 10th March and every two weeks on  a saturday afternoon we are hosting a life model workshop. It will be the same model each time but will be a good way of trying different mediums with this subject.
I have been spending my January experimenting with needle felting as I feel this will be really popular and also making cushion covers with old woollen jumpers and cardigans.
We have decided from now on to have pop-up workshops instead of a calendar of events as I can then judge what people want to do (and when they are available) rather than desperately think of different workshops at the beginning of year. Hence the French Polishing next month.
Looking forward to meeting up with everyone again !
Happy New Year
Jeudi Art is having a break during January but I have been busy thinking about courses for 2018 and making some stuff.
How about this for a needle felting project. It is rather big to do in a day's workshop so I am working on something smaller.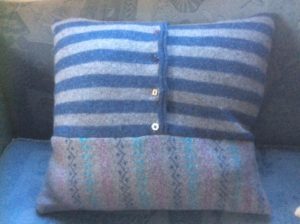 This is an idea to make cushion covers from old cardigans and jumpers. Here is one I made earlier.
Another course we were thinking about was lino printing. This was very popular a few years ago and with a bit of research, we thought we could instruct the course ourselves.
An exciting addition to our activities will be the regular life class that will be happening every other Saturday afternoon. It starts on 10th March through until June and I hope that it's success will mean that it continues further into the year.
The website will be updated soon and Jeudi Art will re-open in February as long as the weather holds.
Wishing everyone a very positive 2018 !
a few wintery pics and some collage
A couple of pictures from Patricia – she is so prolific
Dawn has really got the collage bug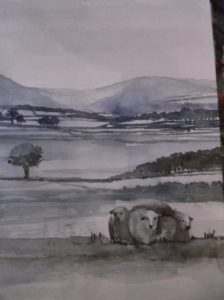 This is one of mine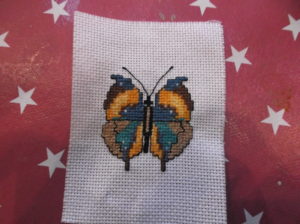 … and Pauline has finally finished her butterfly
blisters and dust
look at these beautiful shiny pieces of furniture. Thank you Richard for taking the second French Polishing workshop. I forgot to take 'before' pictures. What an idiot!
this week
On Tuesday morning Brigitte painted another lampshade – this stencil is very popular. Jeanette has been working on this for months (well, years really) I said she must frame it when it's finished. Jenny was playing about with leaves on a painted box – love the colours
Dawn (flowers) had continued the collage bug and then did a delightful chicken in water colour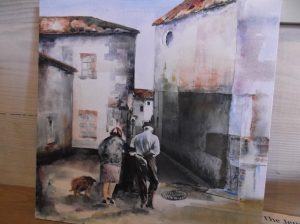 I finished off my latest collage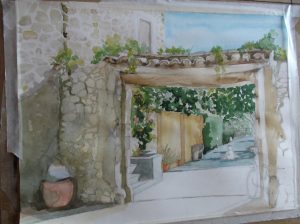 Jane really does some beautiful water colours
Eric was revisiting an older painting and Jan was continuing with this beautiful picture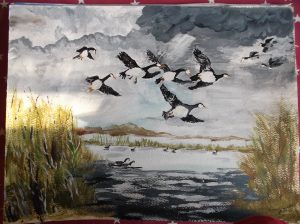 … and Patricia painted this in acrylic from a black and white image – love the sky