the last week before Christmas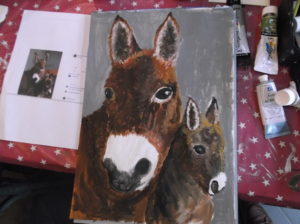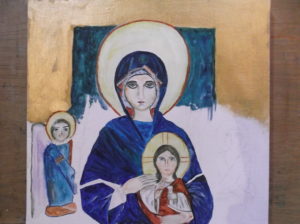 A couple of Christmassy themed paintings going on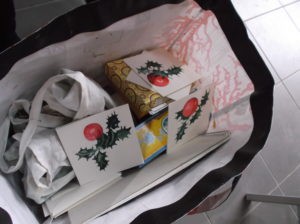 Jane's bag of Christmas cards ready to go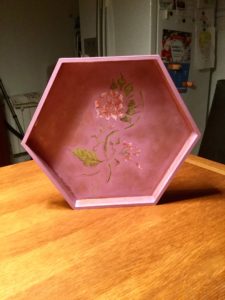 Sally had done this at home but it deserves to be here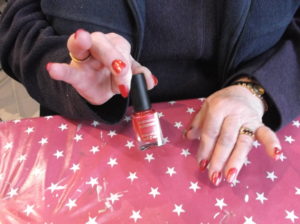 … and just before the Christmas party – not much painting of pictures – just Sue painting her nails !
Merry Christmas !!
trays and bottles
Jeanette was using decoupage to make an animal tray and I used a page from an Angie Lewin calendar for this small drinks tray. Jane and Brigid came this afternoon and were decorating bottles for Christmas
A couple of sketches from Chris and Steve
Some works in progress by Jackie, Dawn and Frances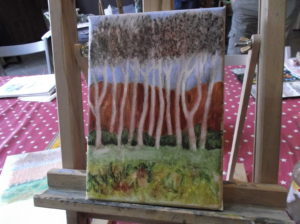 This almost looks like a tapestry – an acrylic from Jane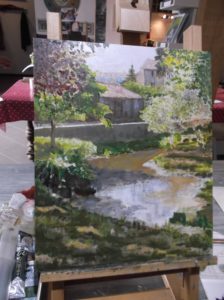 … and this is finished – from Jan
Creative Writing for Christmas
We are offering three sessions for Creative Writing on the following dates – 6th, 13th and 20th December on Thursday mornings from 10.30 to 12.30. Come and join us for some Christmas writing and mince pies !
New fire
I am a bit late in posting these pictures of the fire. We had it installed about two weeks ago and it has proved to be a great success. We were a bit worried that it would not cope with heating the great expanse of the barn, especially as the roof is not insulated. But as you can see, lots of happy, warm  people. Thanks to Divison Bois at St. Sornin for the very efficient installation.
bits and pieces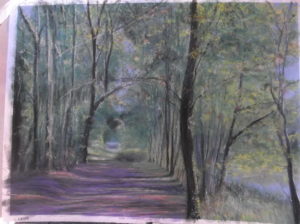 This is something that Cate did last week – it's big and works really well – love the trees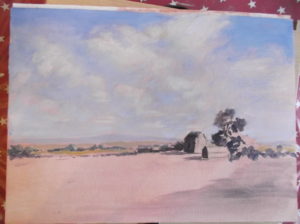 Frances is trying out a method of painting in oils with only three colours – I look forward to seeing the finished painting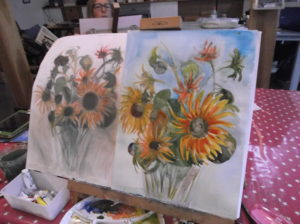 Jane is doing the same painting – so far in pastel and water colour – next oil and acrylic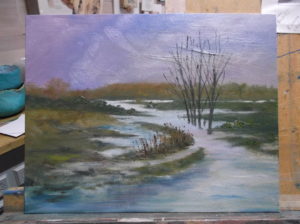 I love this by Steve – beautiful colours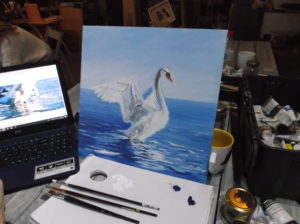 and this one by Chris has such movement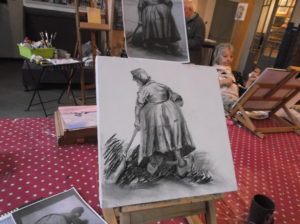 Dawn was using charcoal on a canvas to create a Van Gogh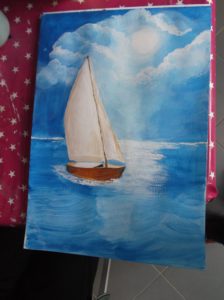 One of Patricia's quick paintings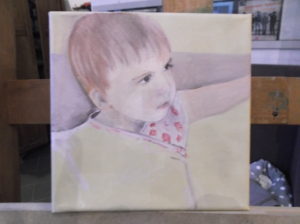 This is a commission – once I am happy with the face, I can relax
lots of different styles
Jackie and Dawn love to paint in water colour – a bit of interaction going on with the apples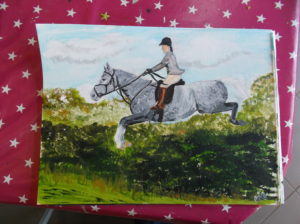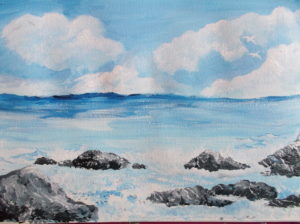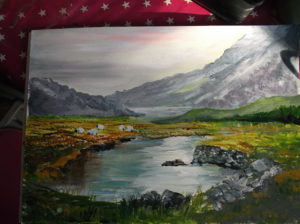 I can't believe how quickly Patricia paints – she is getting better and better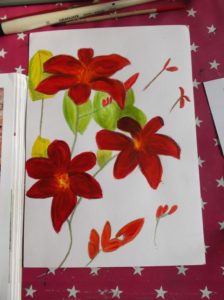 … as is Pauline – beautiful colours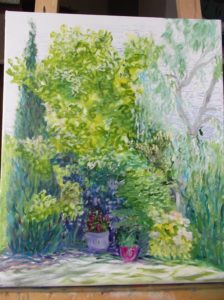 Dawn (S) was doing another painting 'in the style of' but the trouble is I can't remember who the artist was. but I love it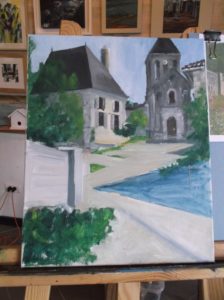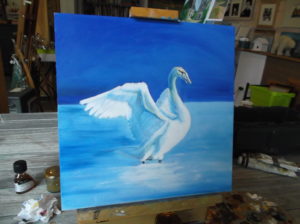 Steve and Chris were here even though Chris had a broken leg.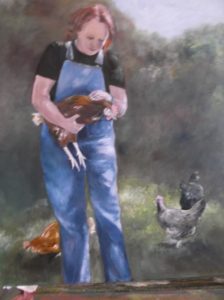 This is a bit fuzzy but I have added another couple of chickens to complete the family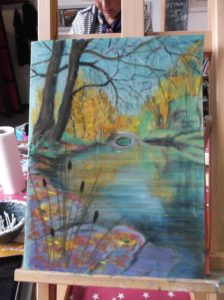 Cate is doing some beautiful work with pastel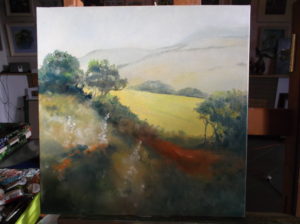 This is a commission for Brigitte – nearly finished