At least the sun is shining
We are now in the second week of confinement. Lots of jobs in the garden have been done, the grass will need a second cut before too long. We have got out the garden chairs and have had a few aperos and cups of coffee sitting in the sun. Today it is really cold though which reminds us that it is still only March. A few Jeudi Artists have been sending in their efforts whilst being confined. Here are some of the things from knitted animals to patterned stairs with some upholstery in the middle.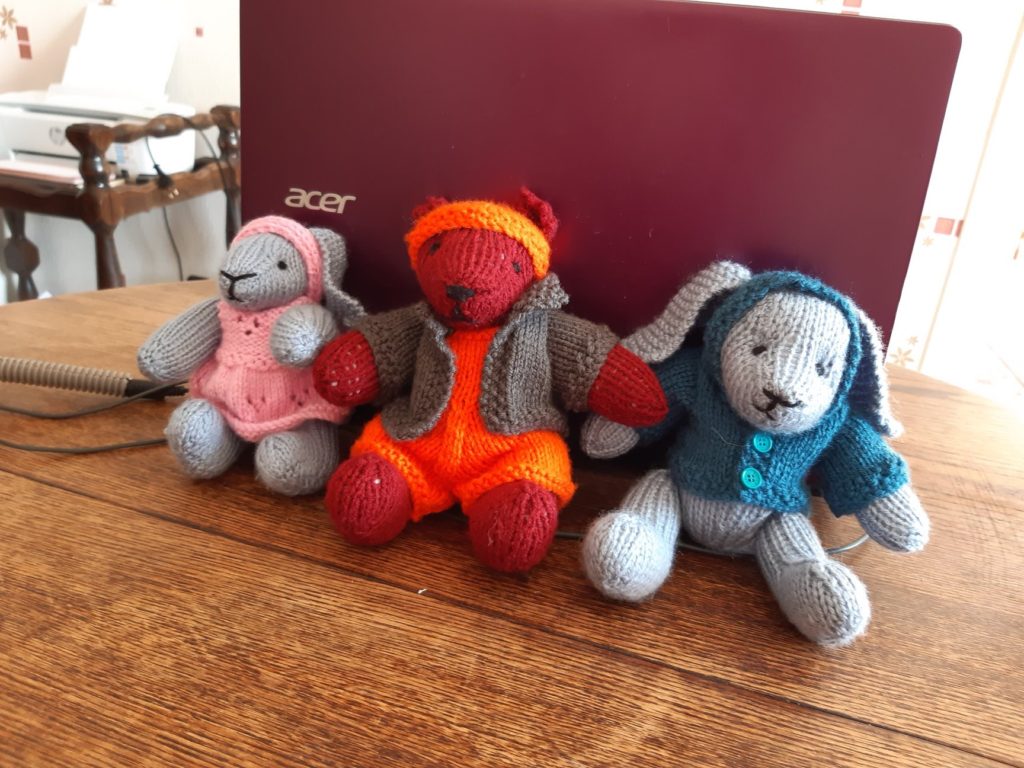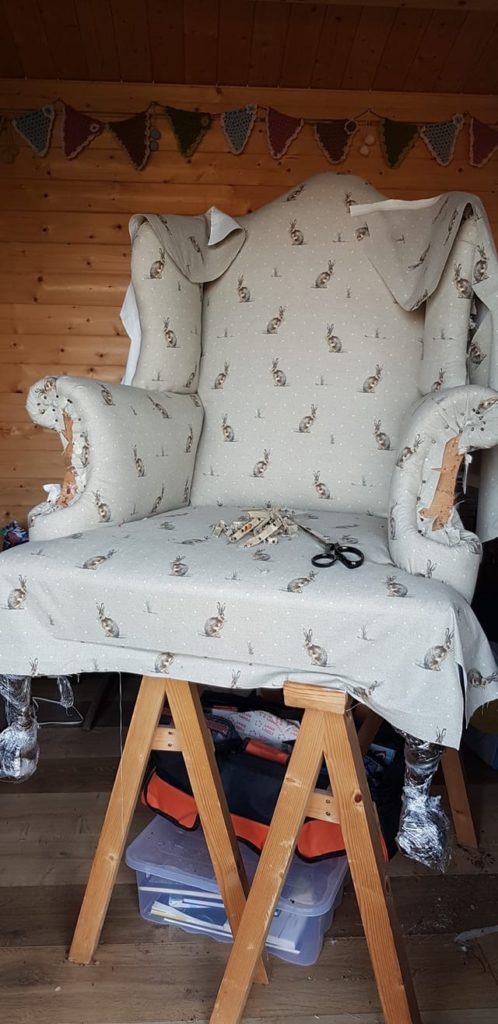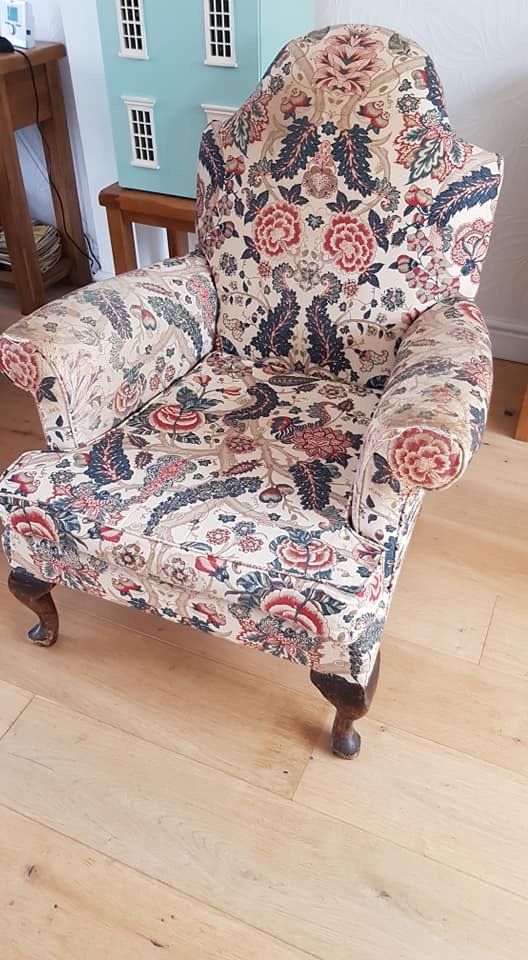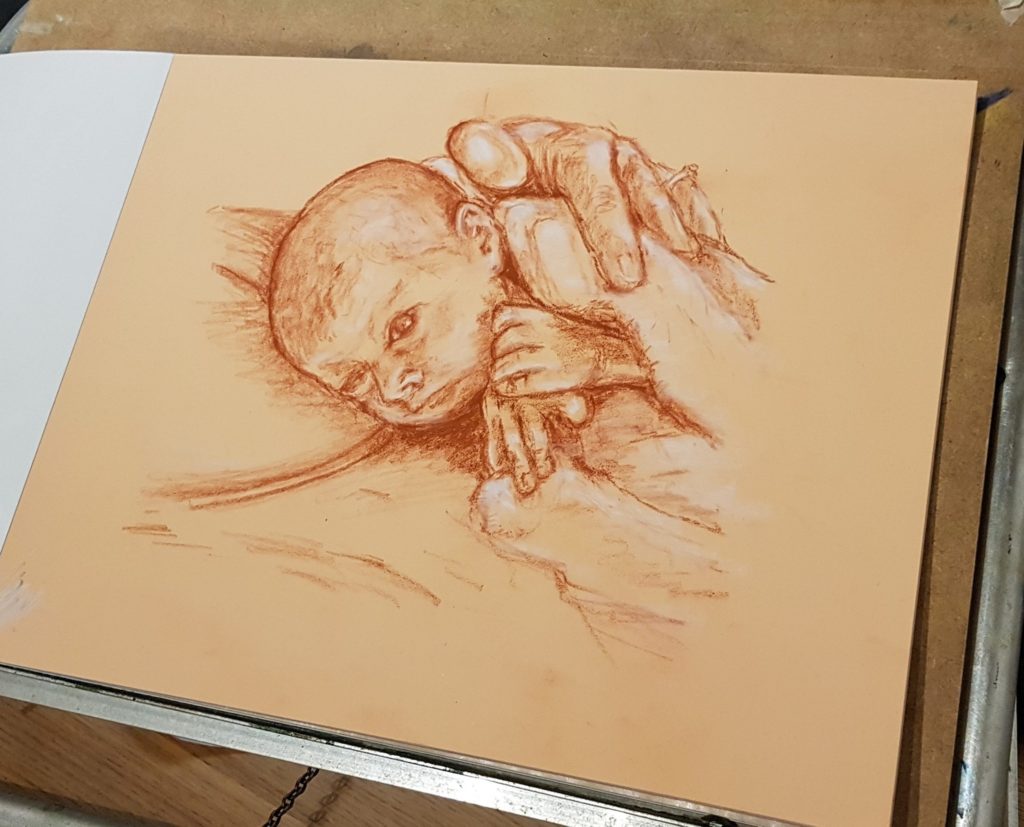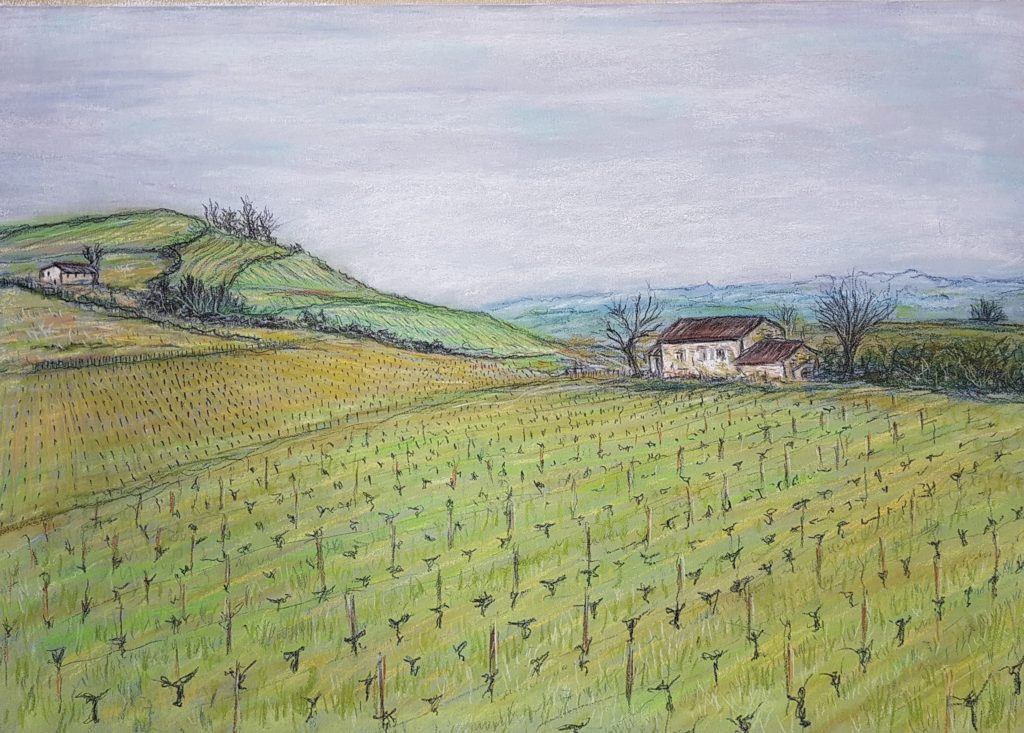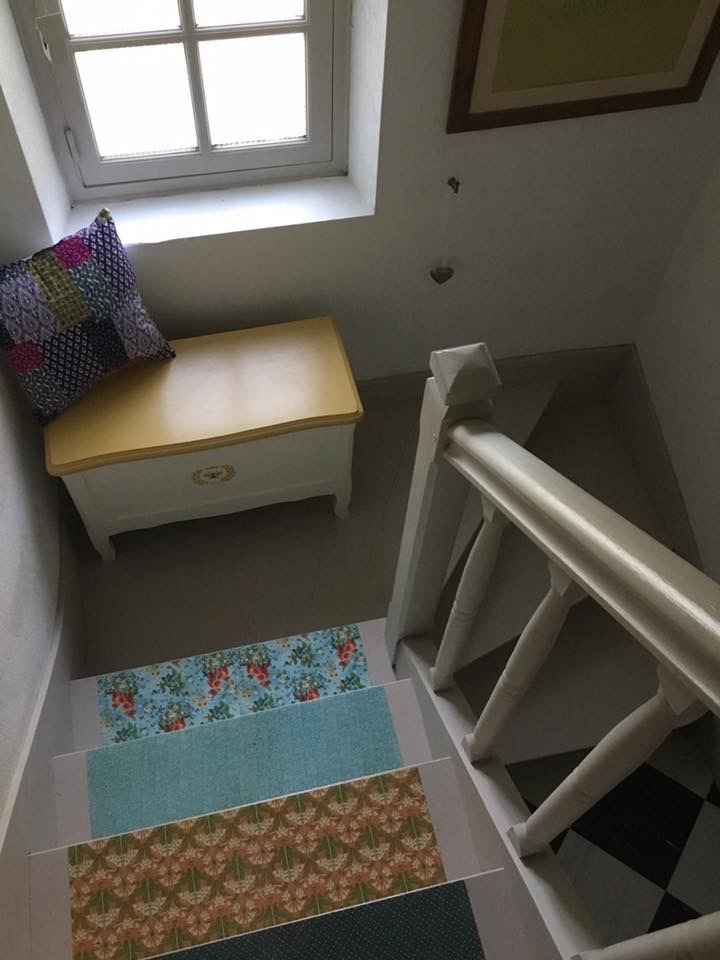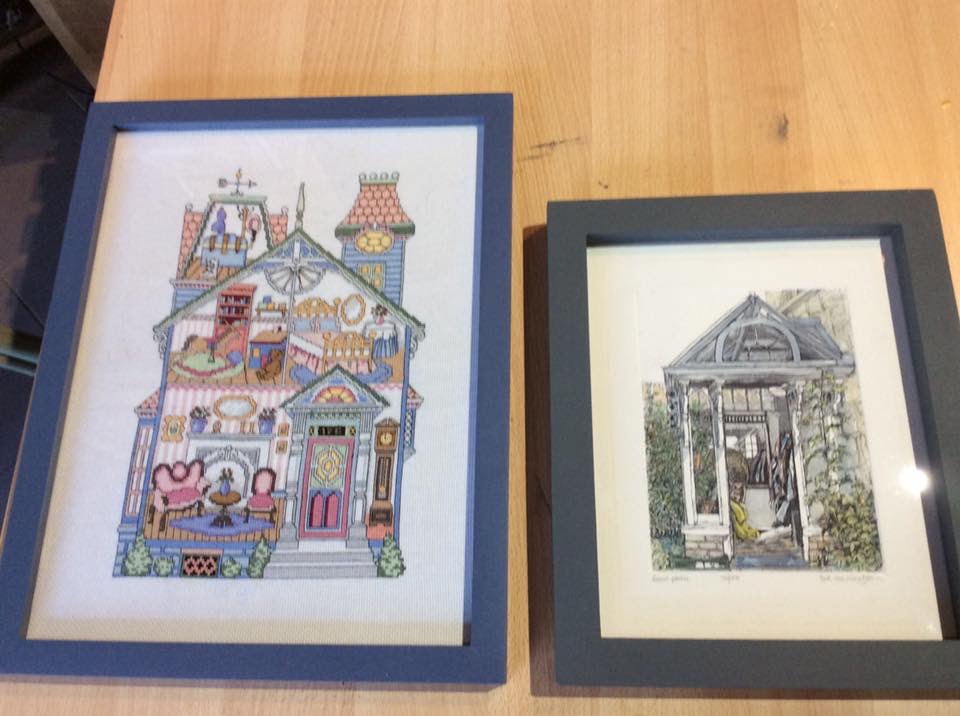 Confinement
As the French call it. What a beautiful day today and how quiet it is apart from the gentle chatter of neighbours as everyone is confined to their house and garden. Before I go and start pottering about in the sunshine, here are a couple of paintings I did yesterday.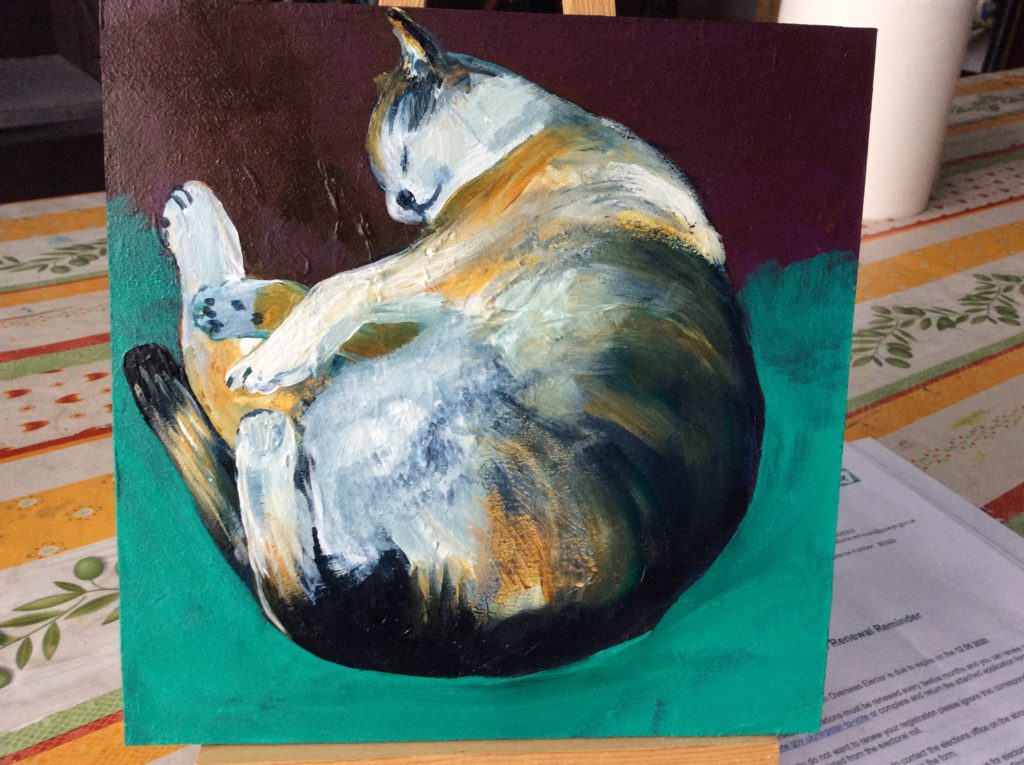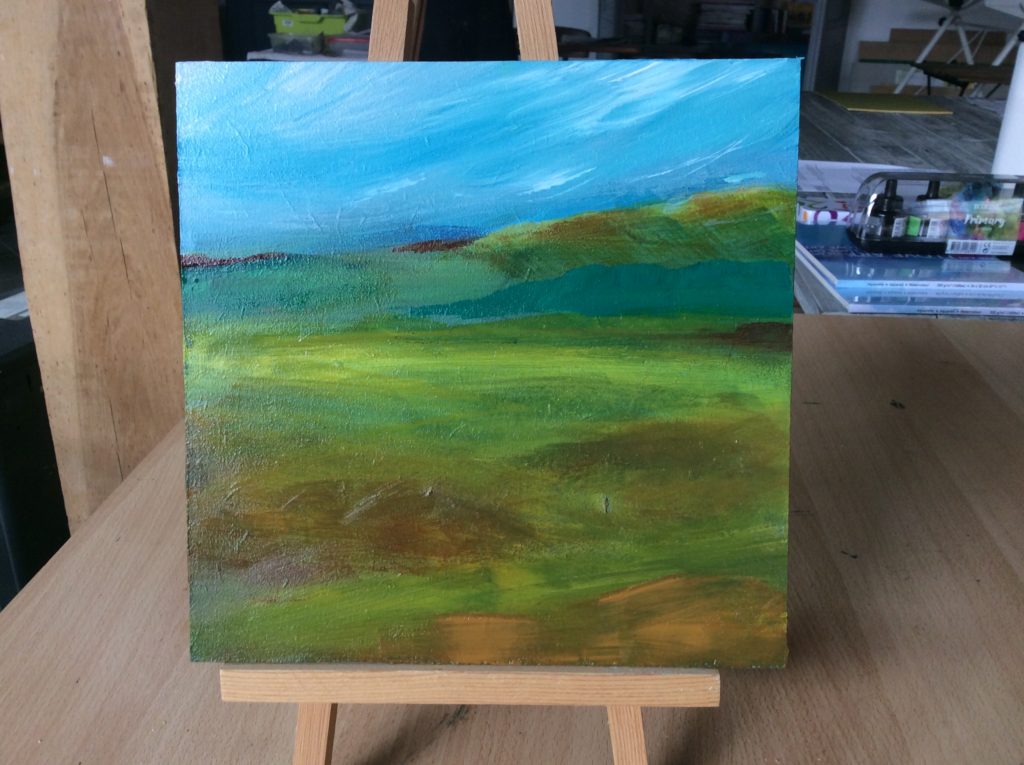 busy busy busy
In the last couple of weeks the attendances have been high. Last week on Tuesday morning some of us tried to do flowers in a jam jar in a different medium or a different style to what we would normally do. Not all of us succeeded in doing anything different really. I have been revisiting acrylics and after being a bit dismissive of them decided that I like them a lot. I have been doing some small square landscapes and have been inspired by the artist Anna Gibson. But this week I went back to oils and started a portrait of Thomas (number 1 grandson) and fell in love with oils again. We are carrying on with the art group until France decides to go into lock down but make the most of these photos incase they are the last for a while.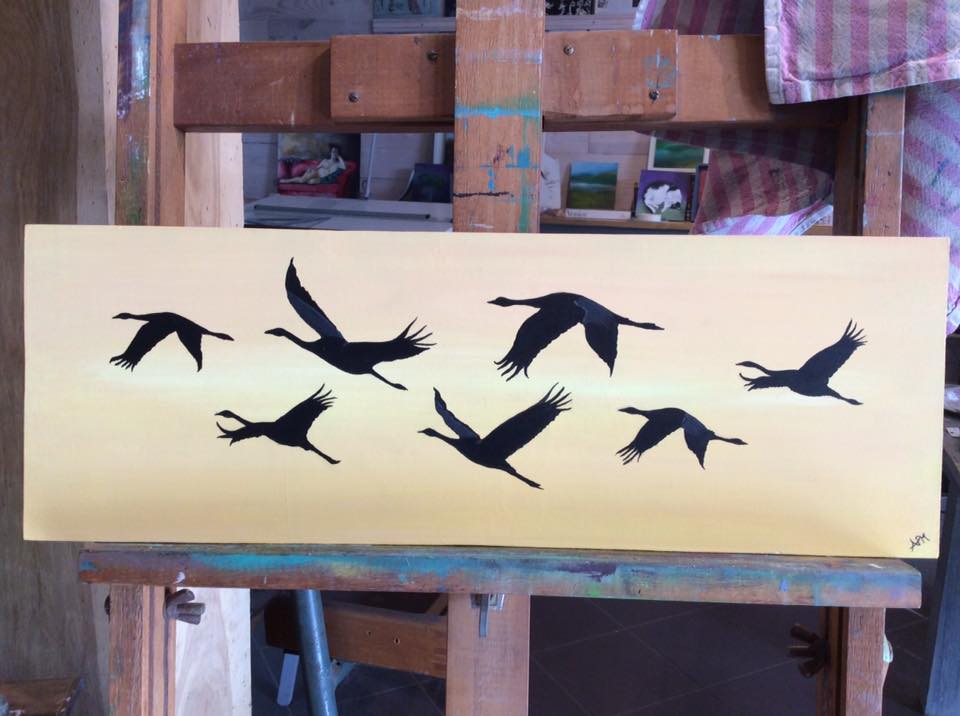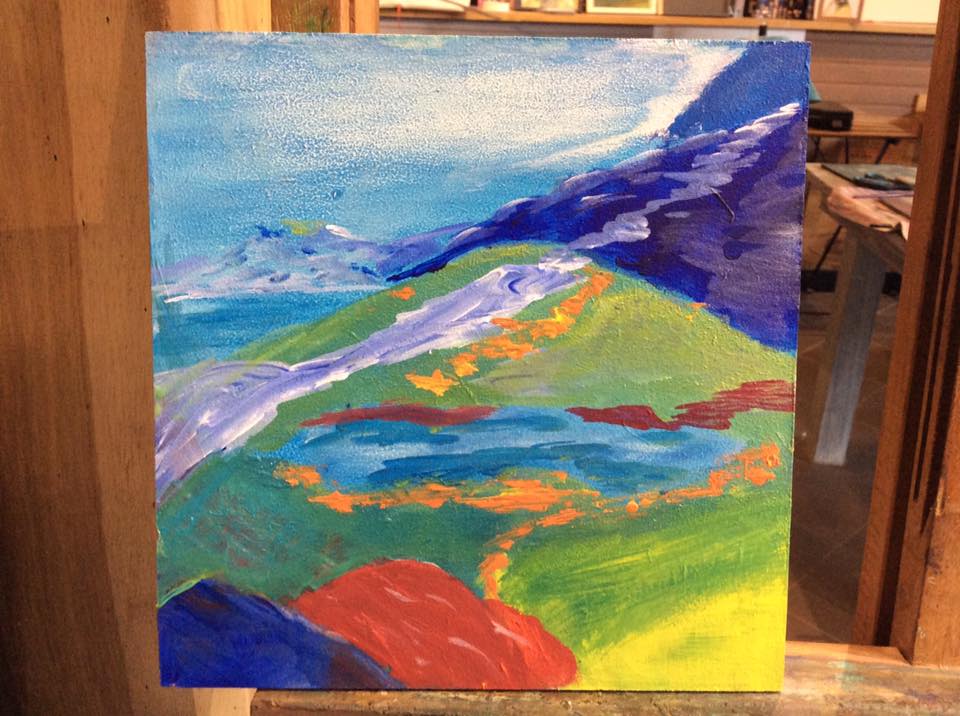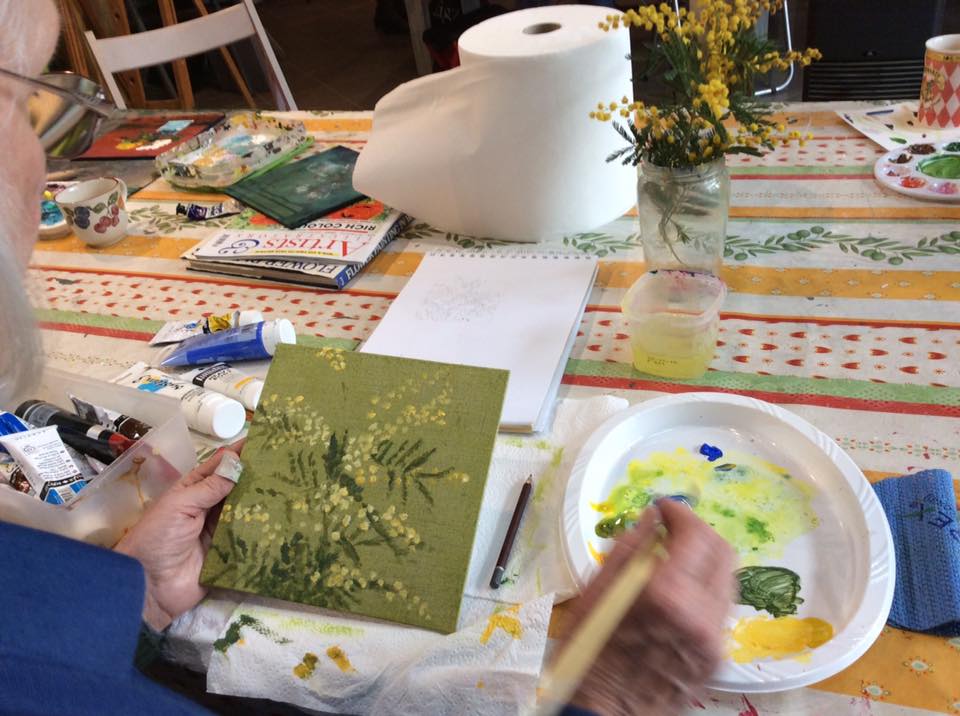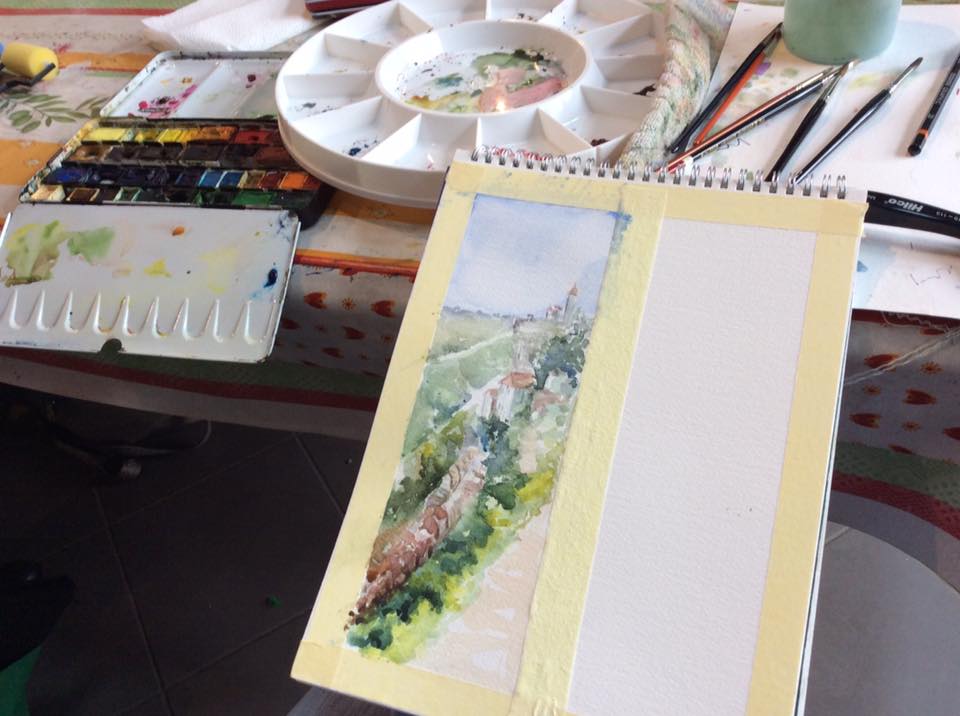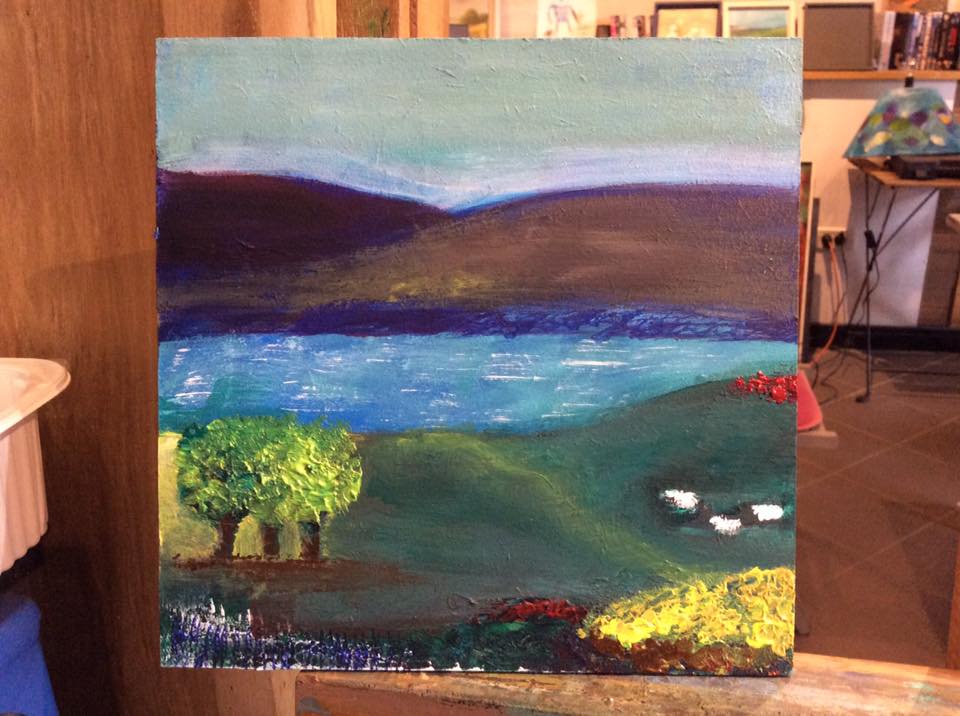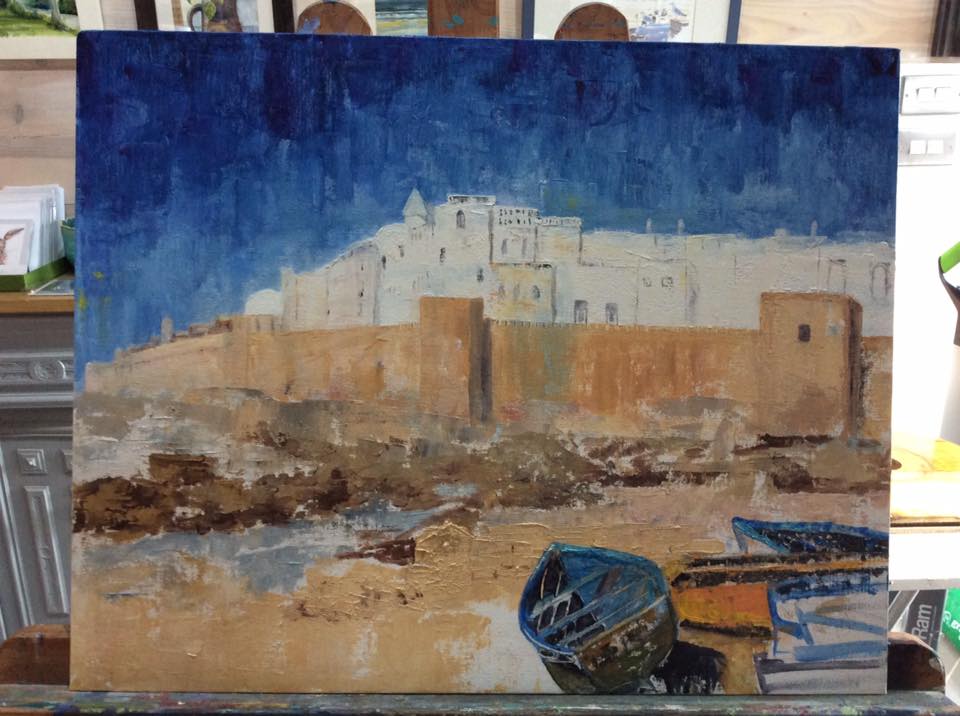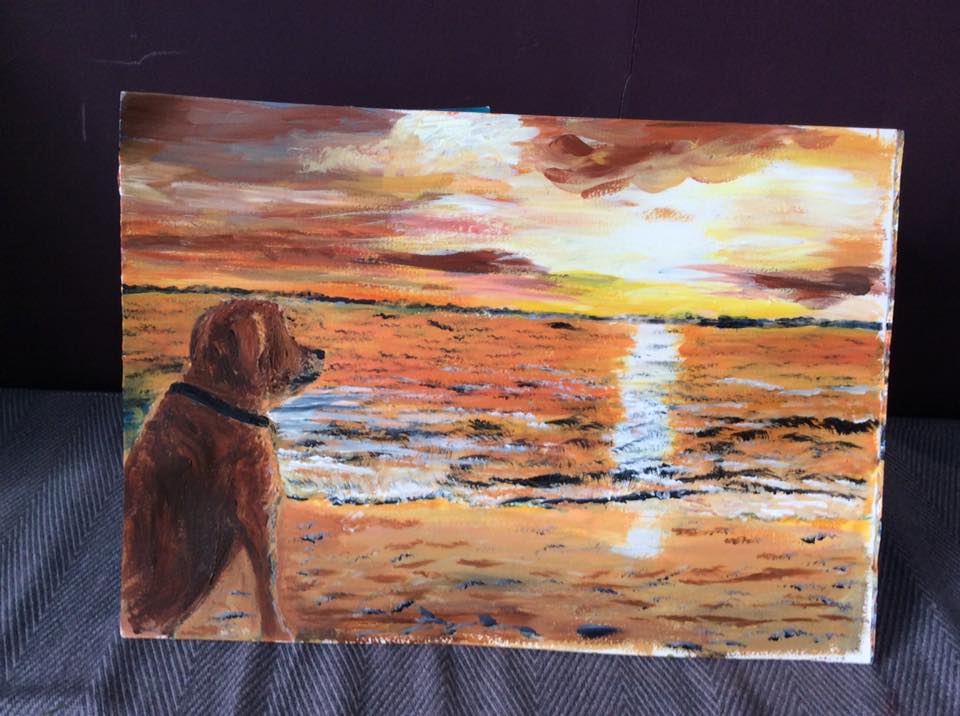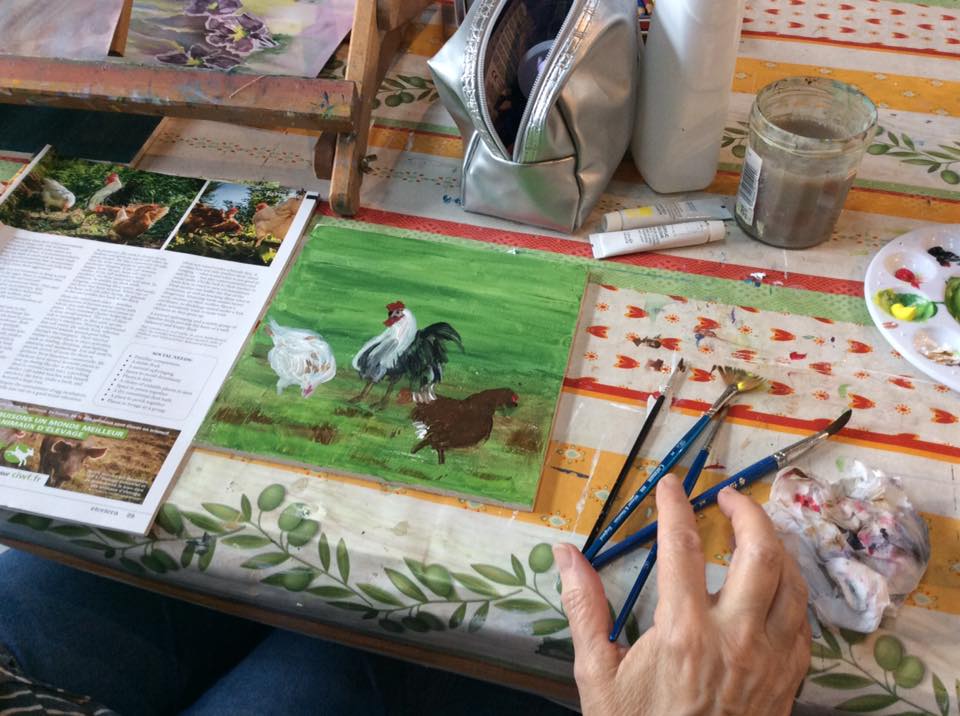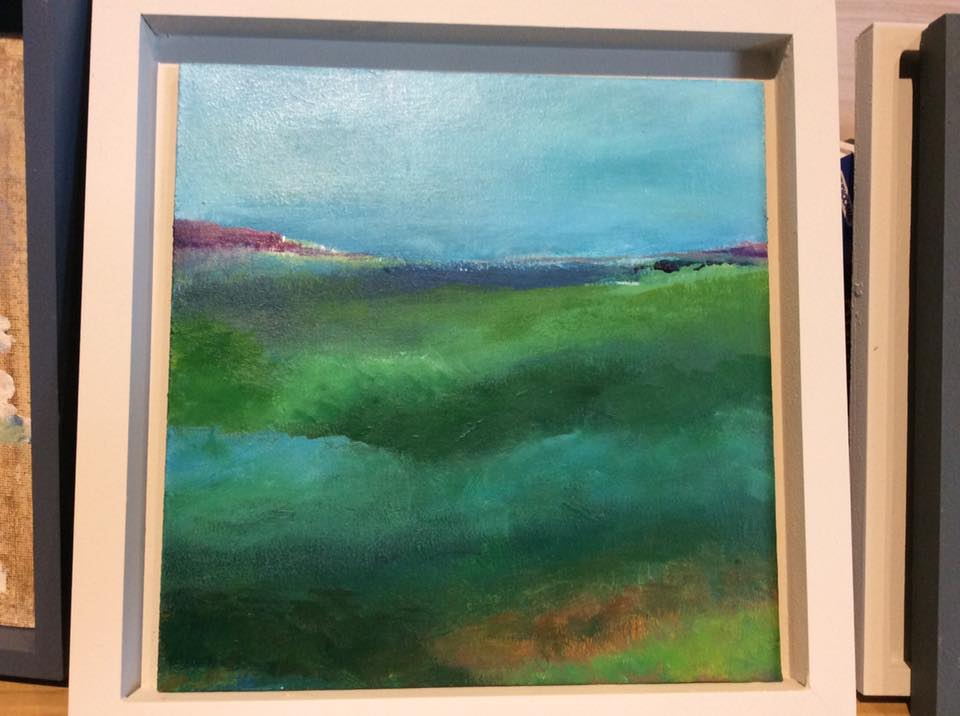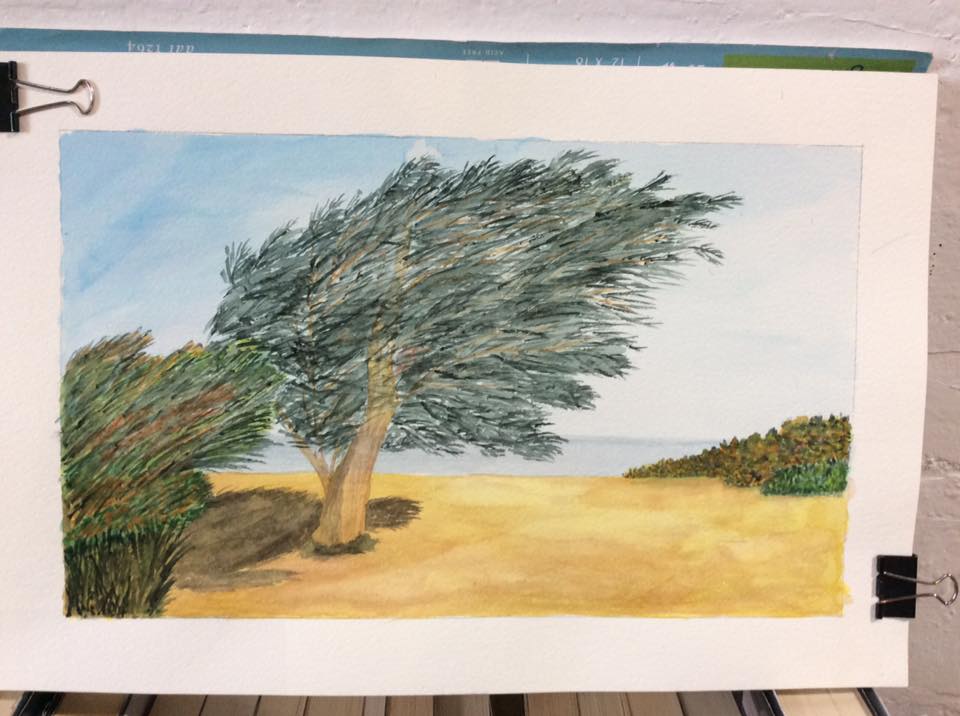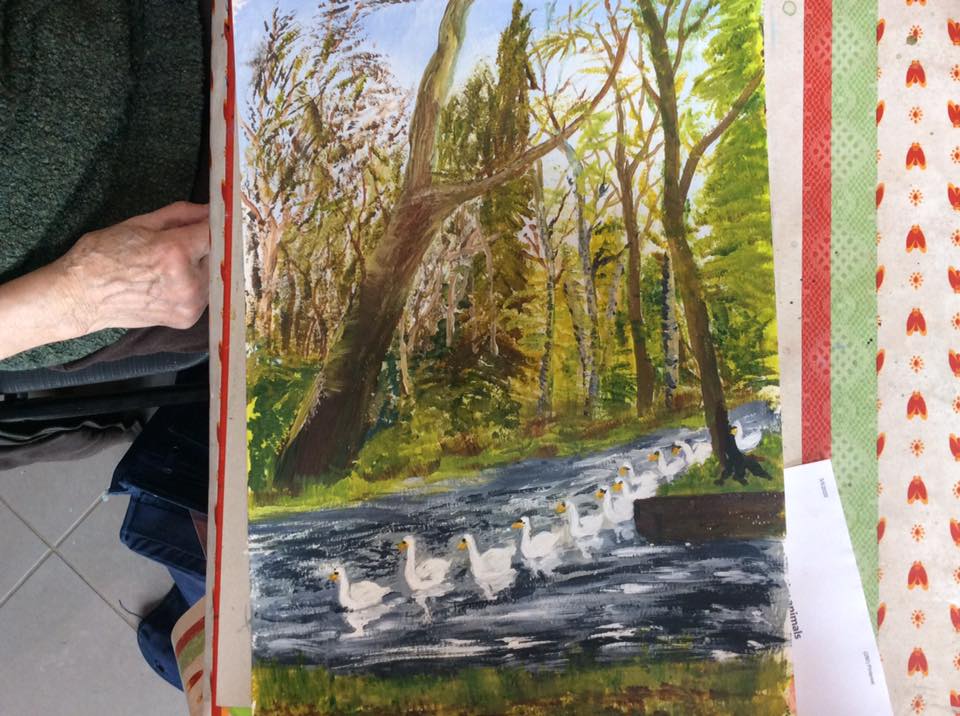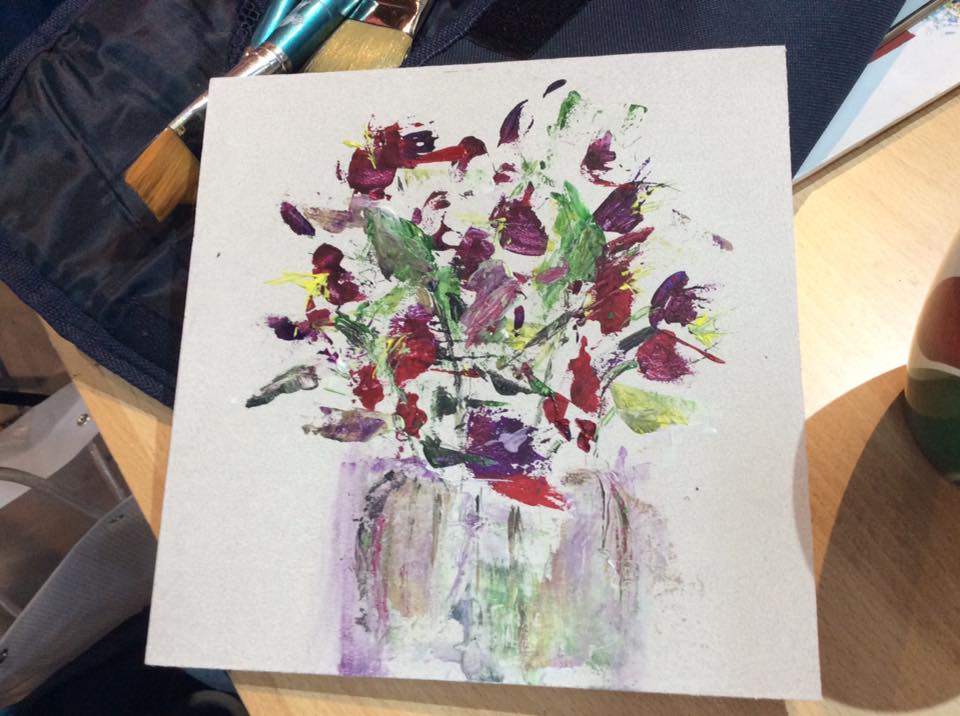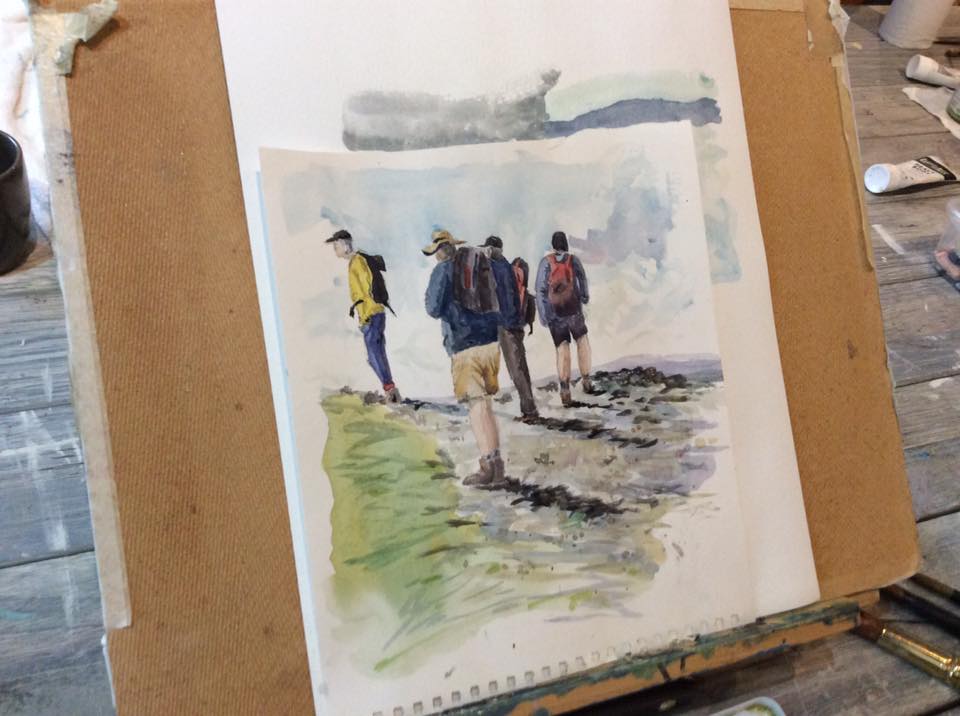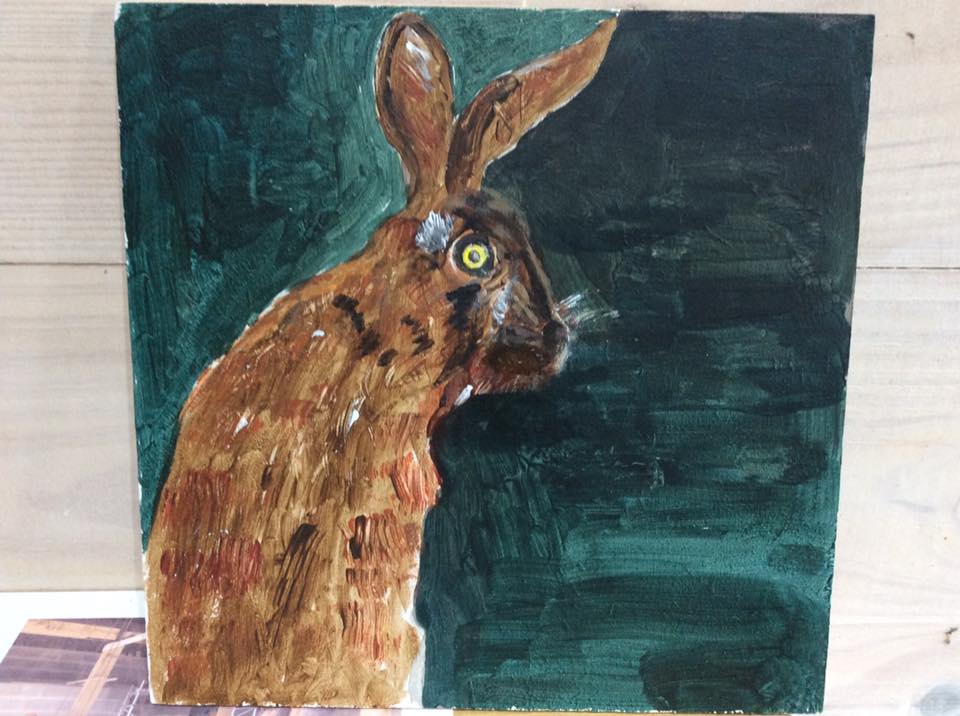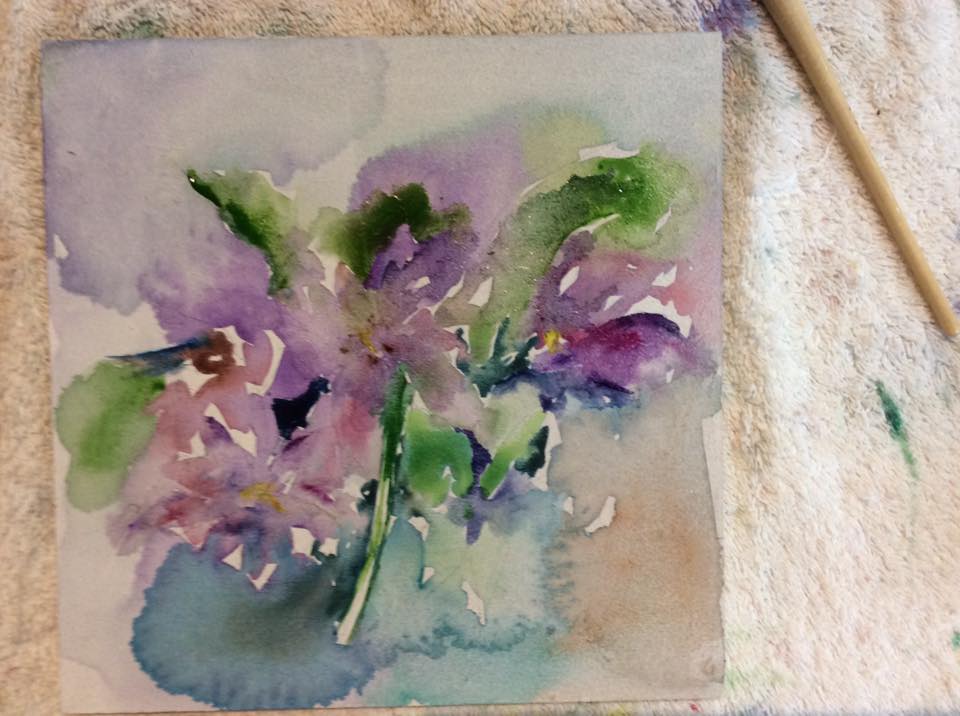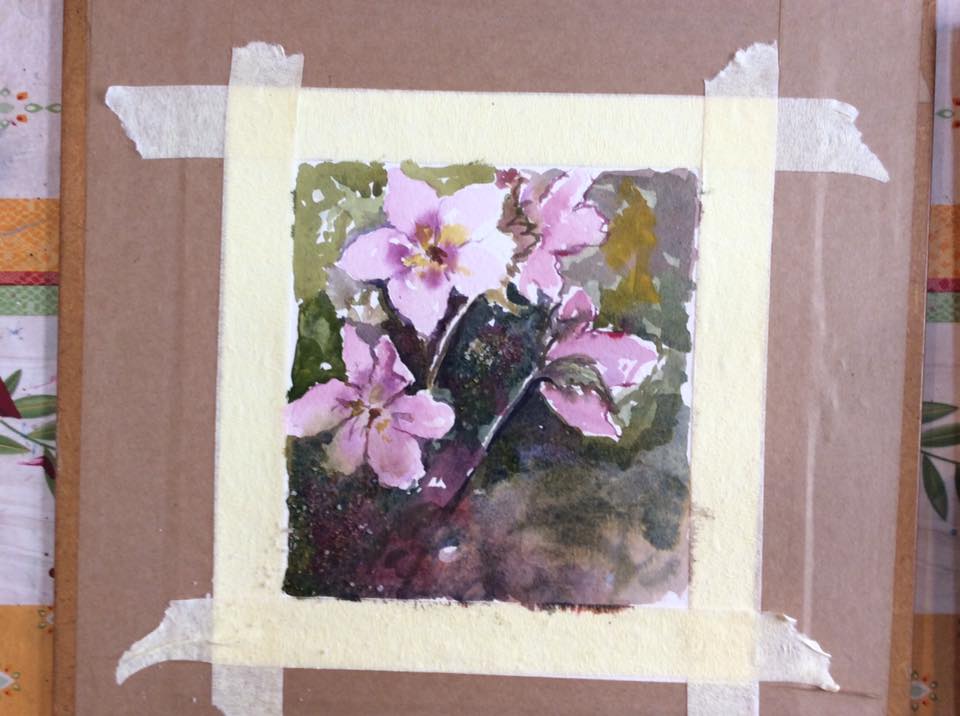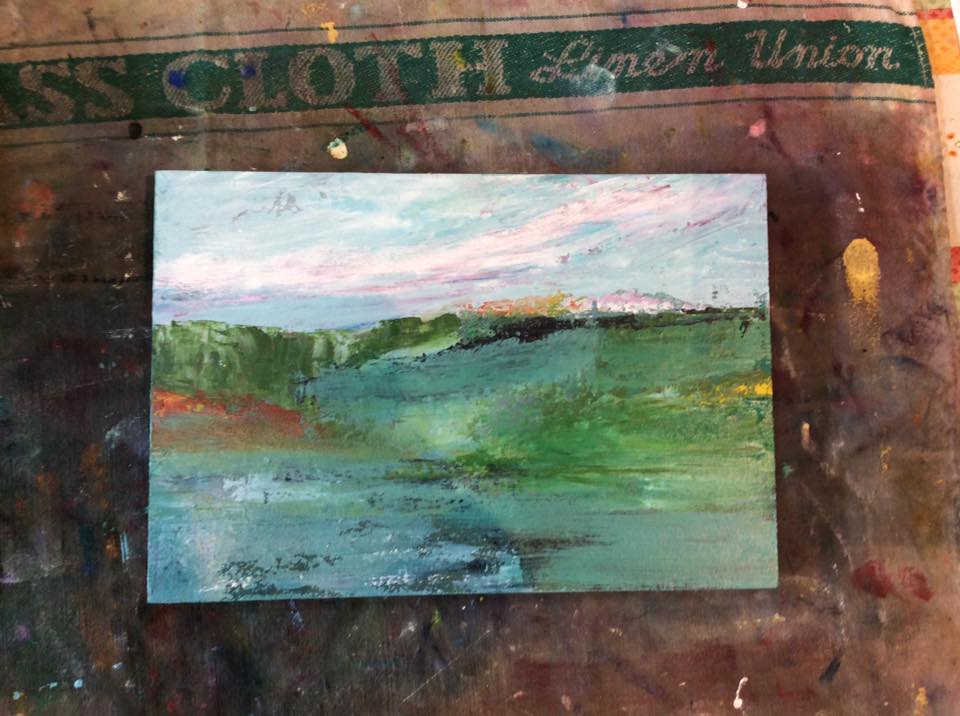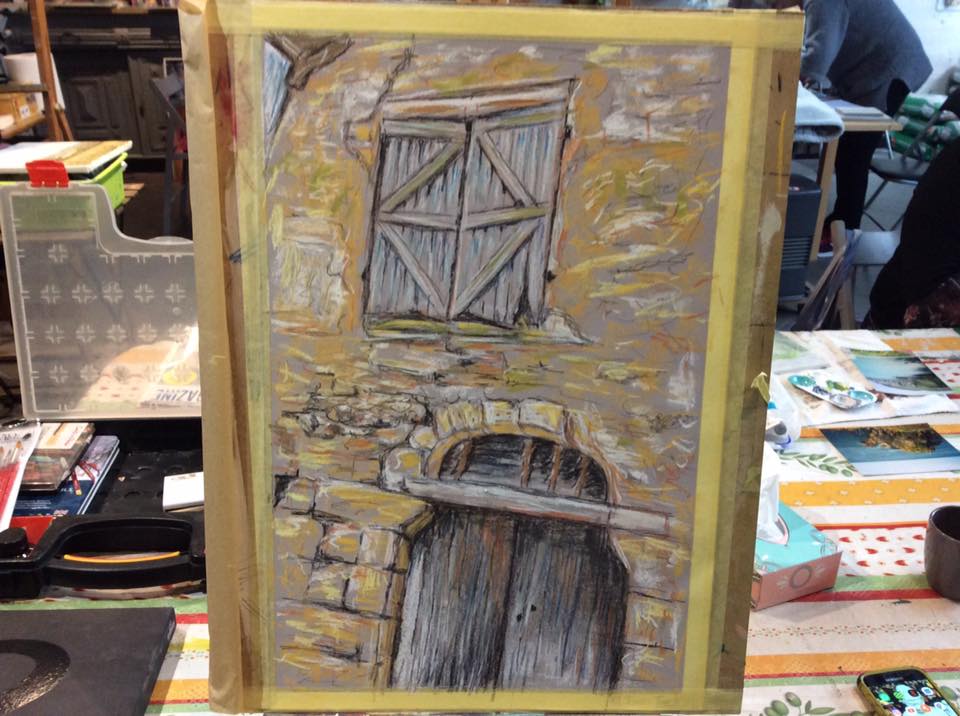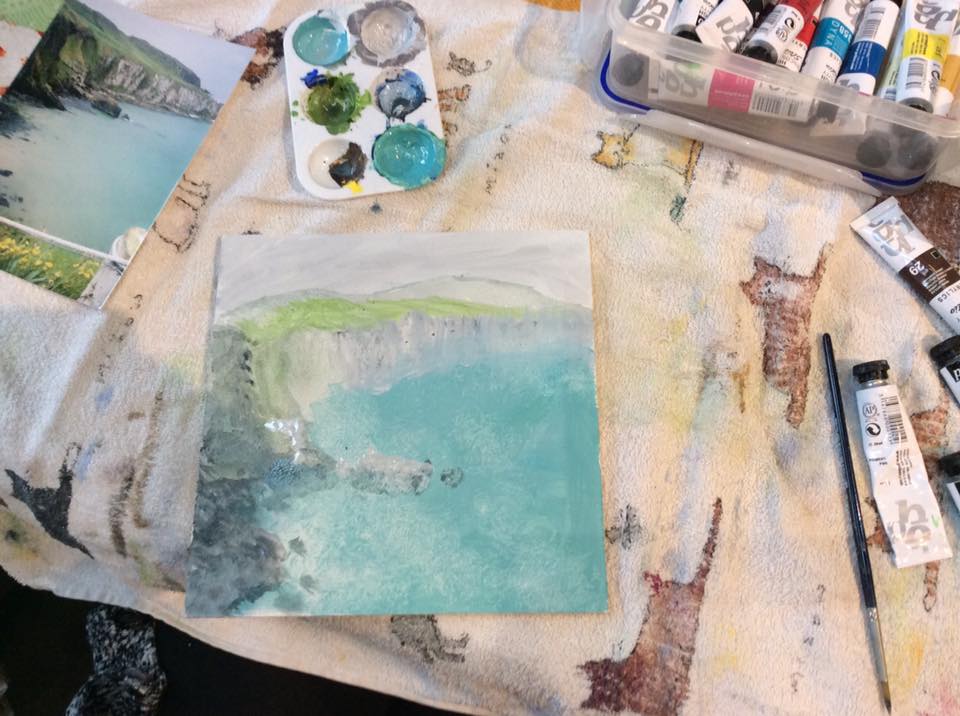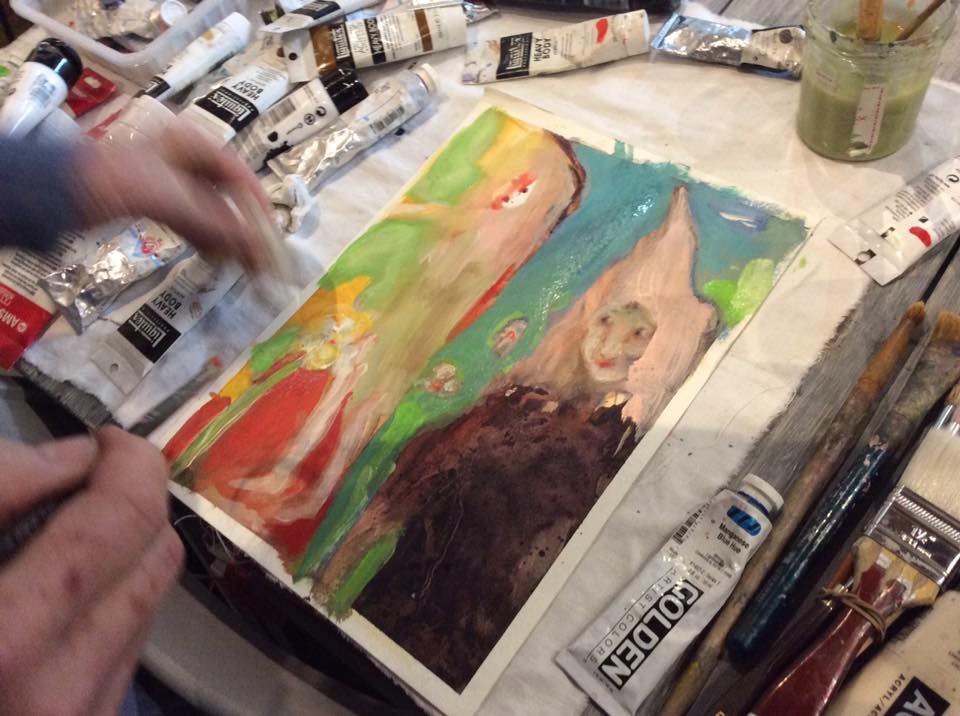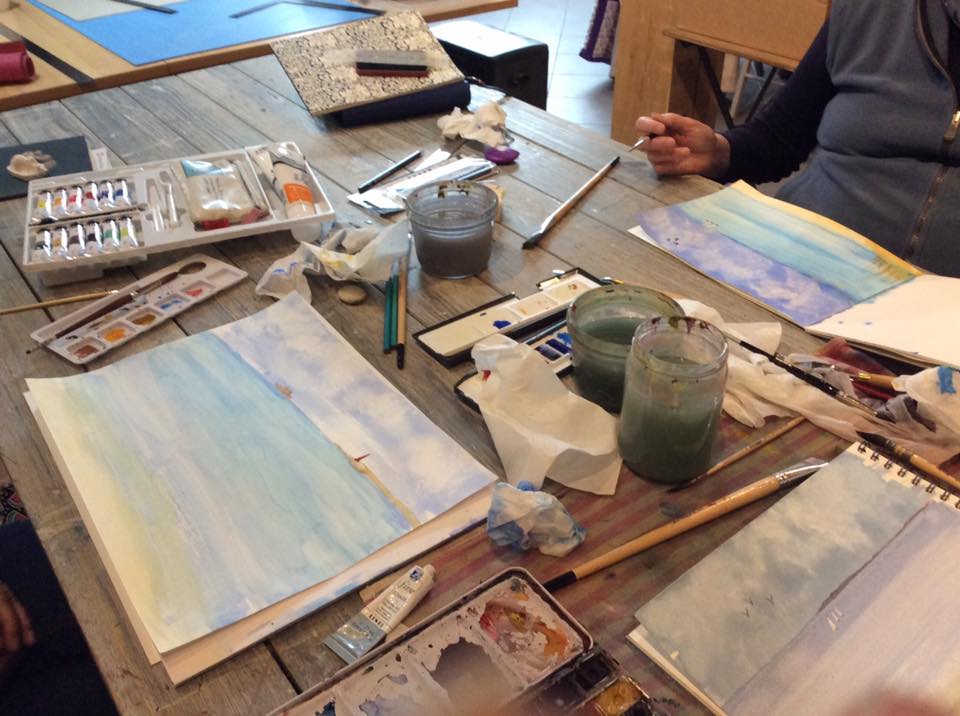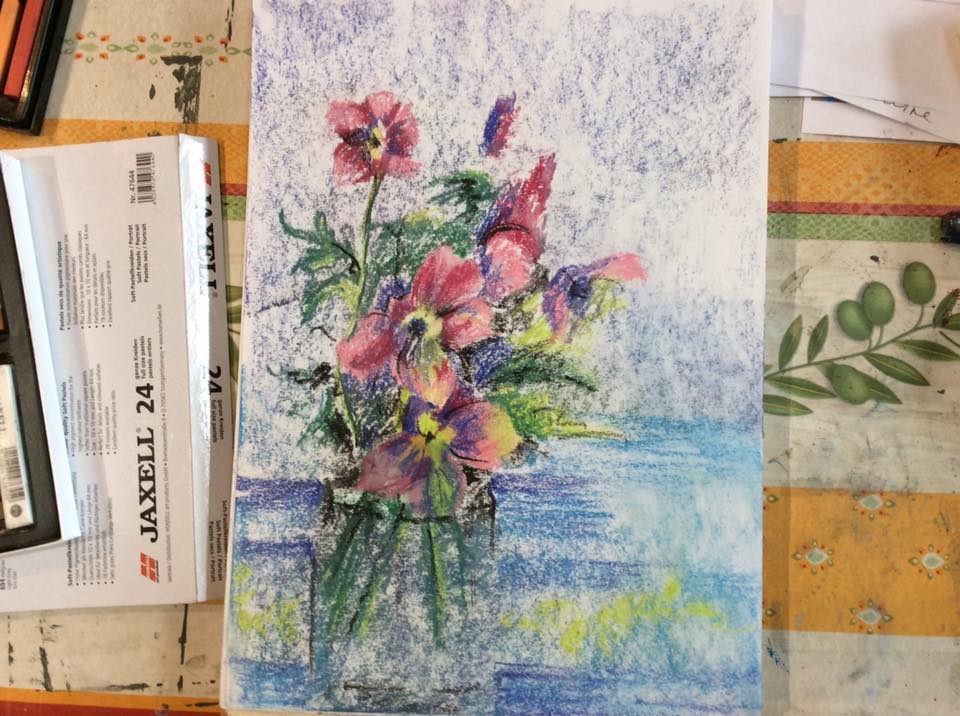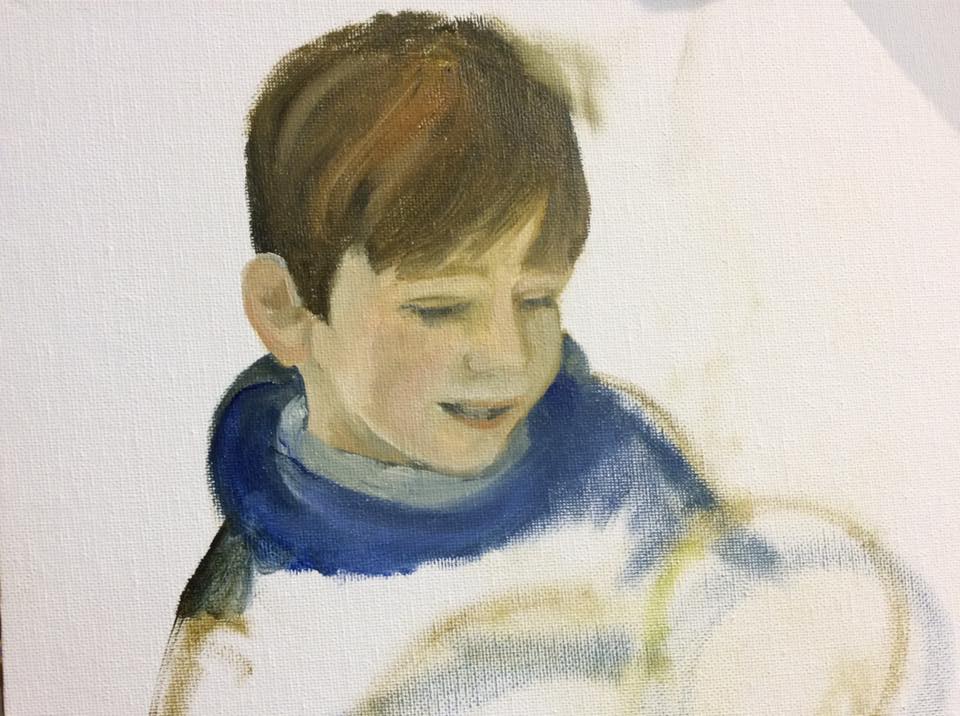 Mardi Gras
Or Pancake Day in England. Margaret came to the door wearing a mask which was a bit disconcerting until we realised what day it was. And she had brought Scottish pancakes. I had already made two different types of biscuit so we had a grand feast. Everyone was glad to be back and had brought some of the things they had been doing during the break.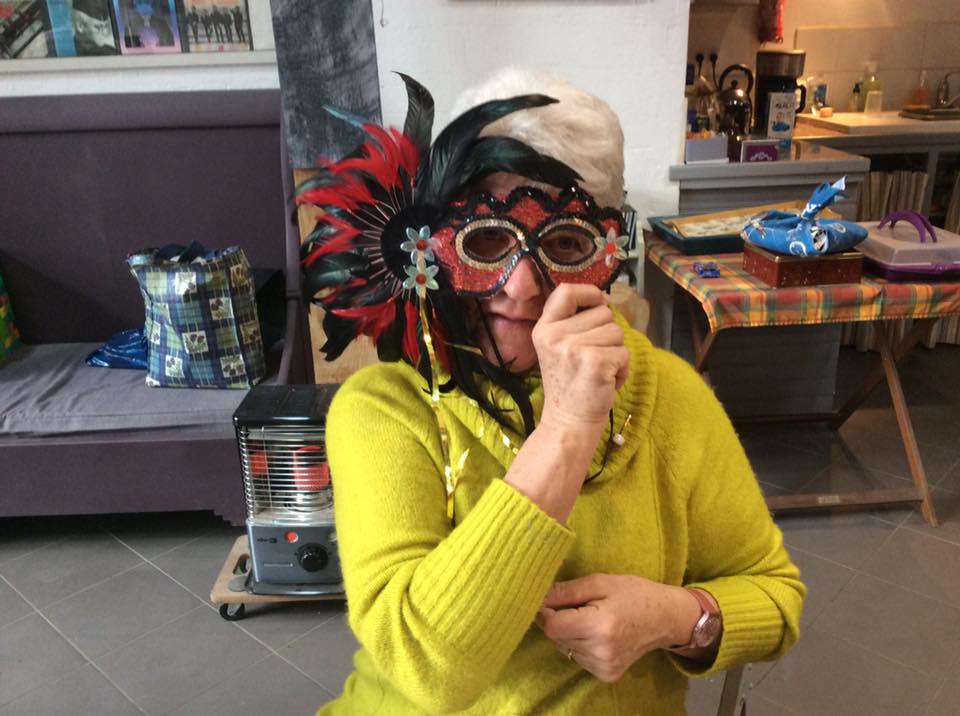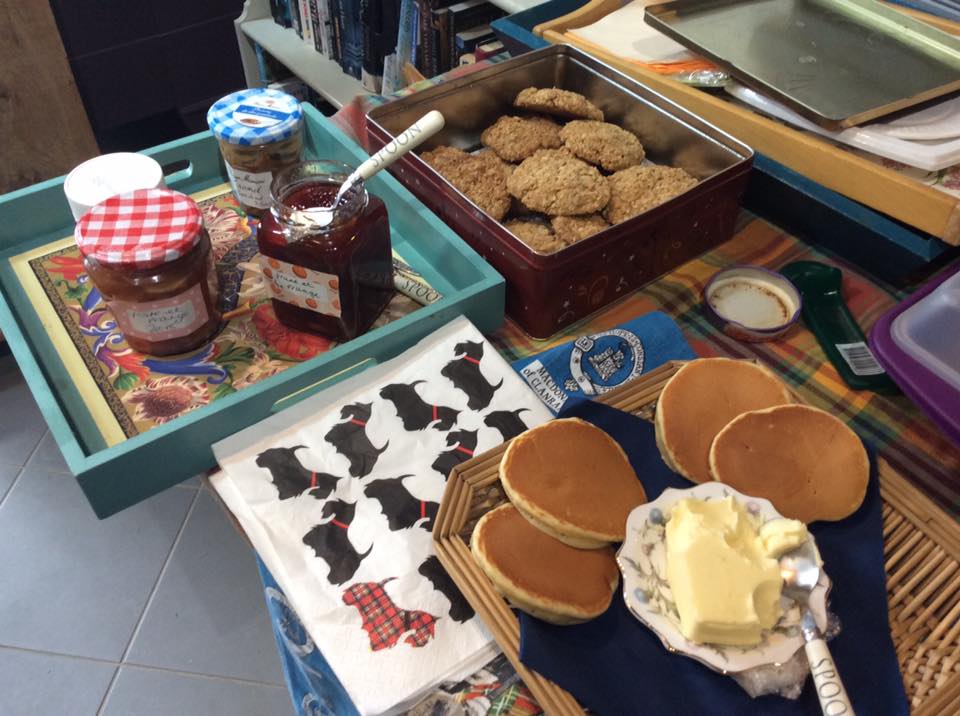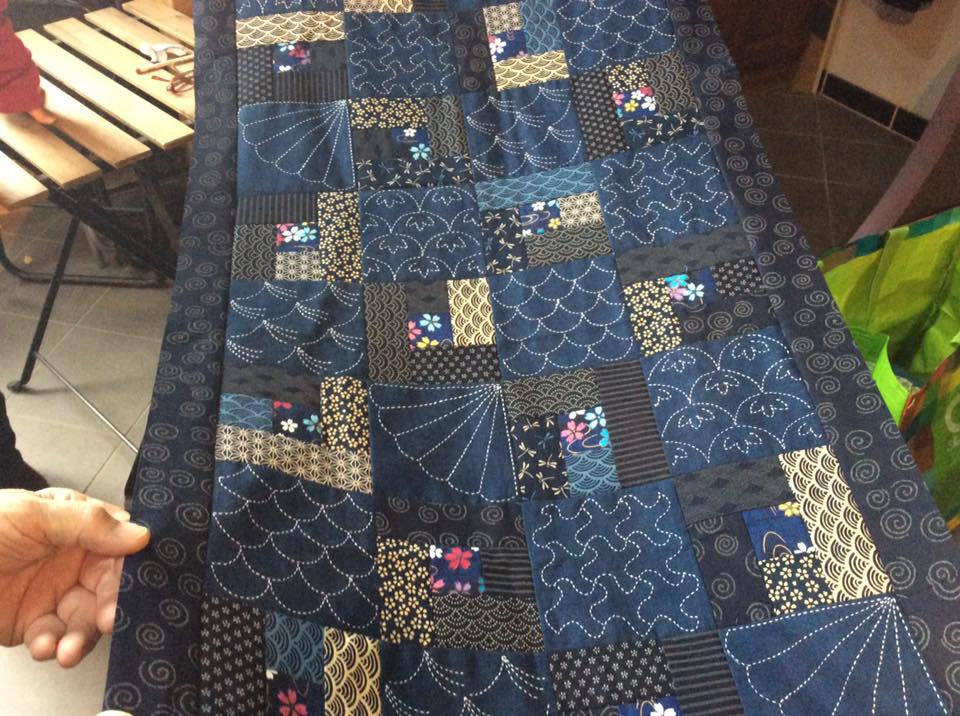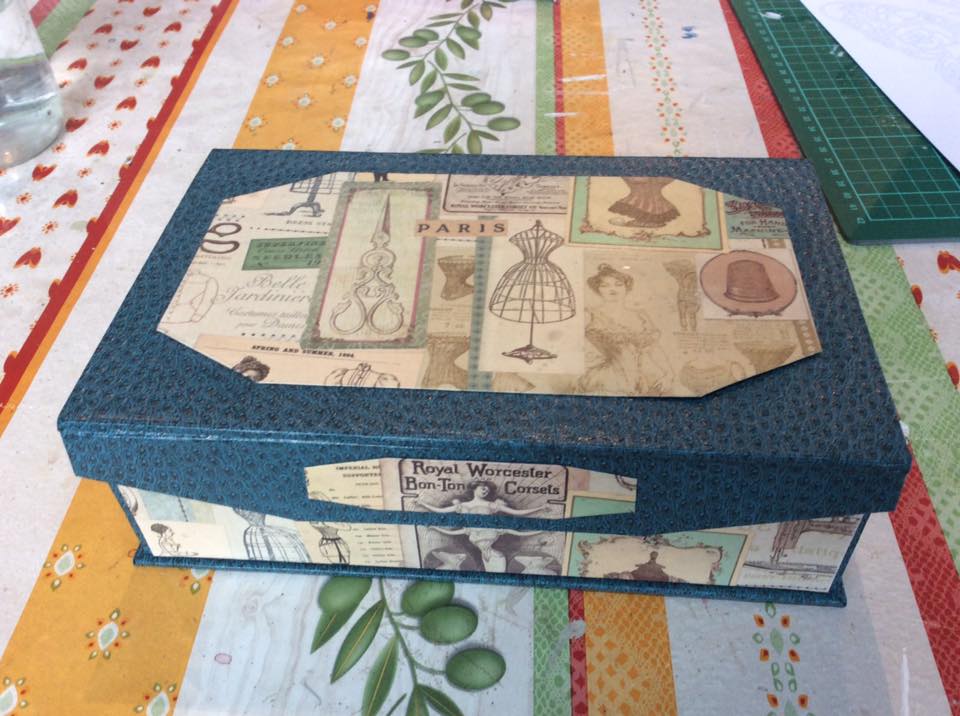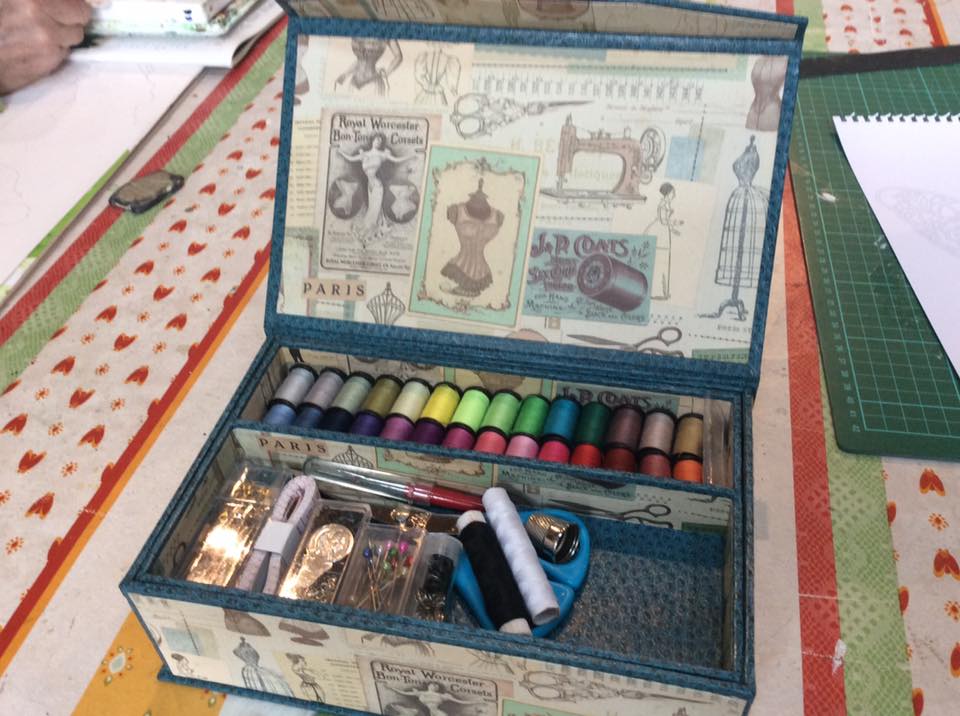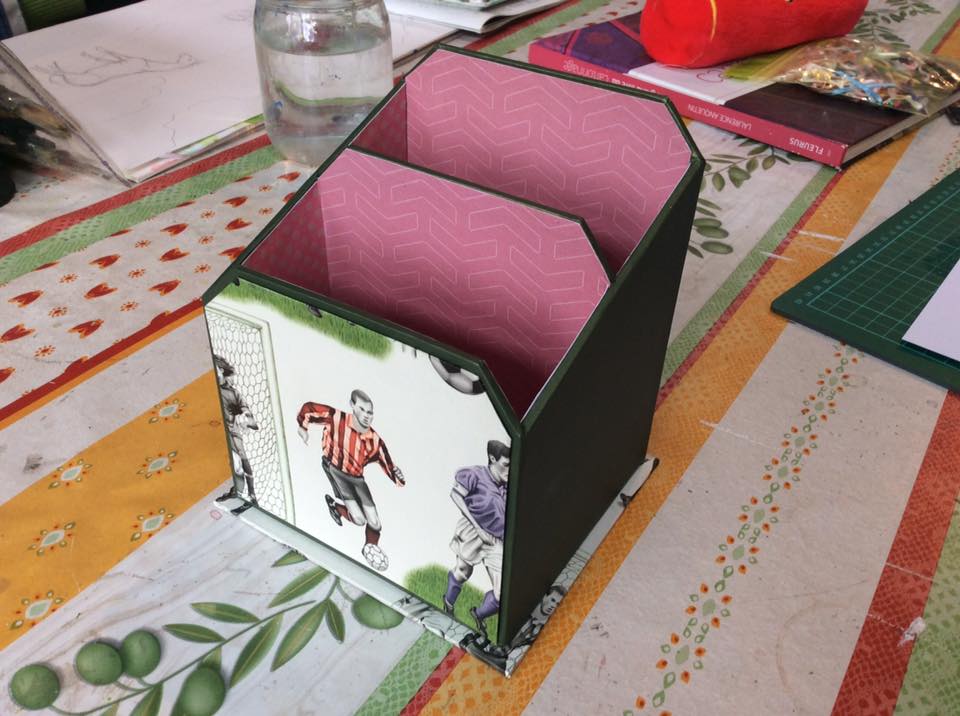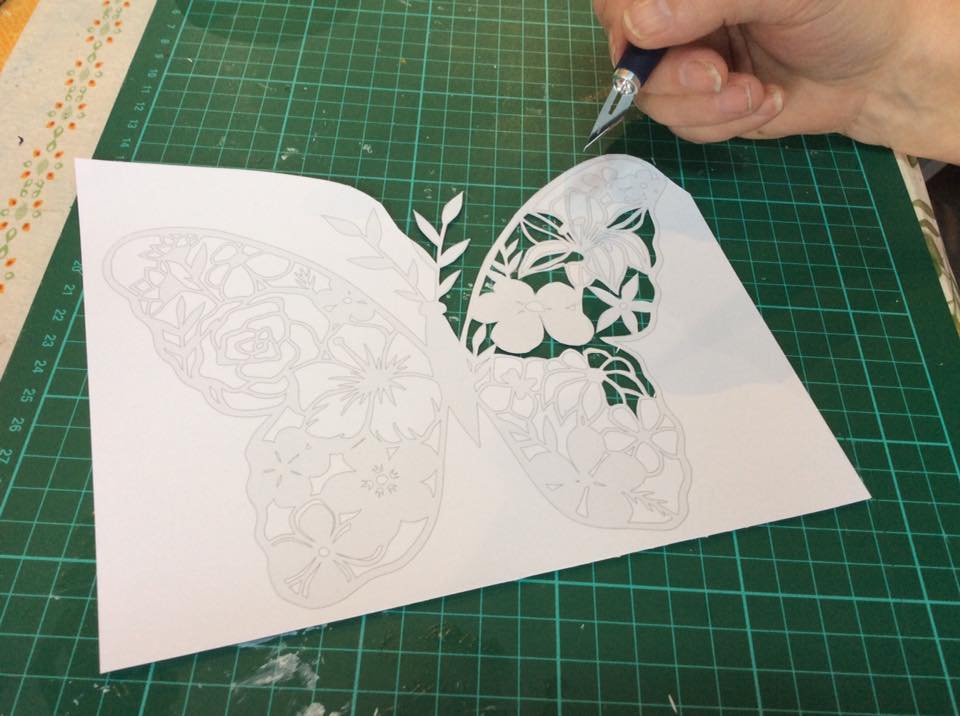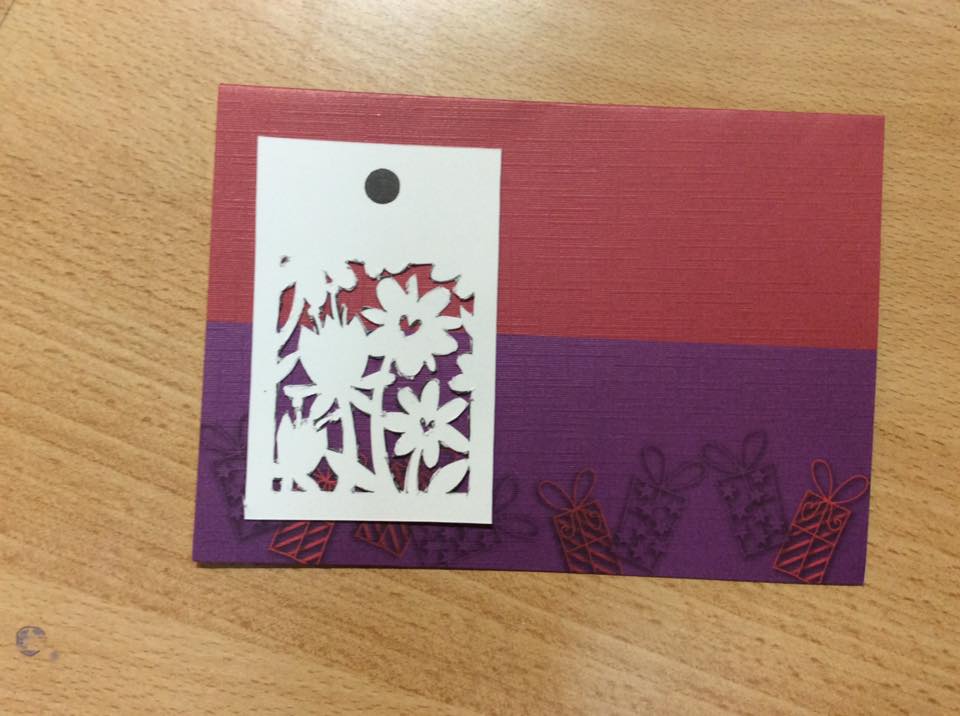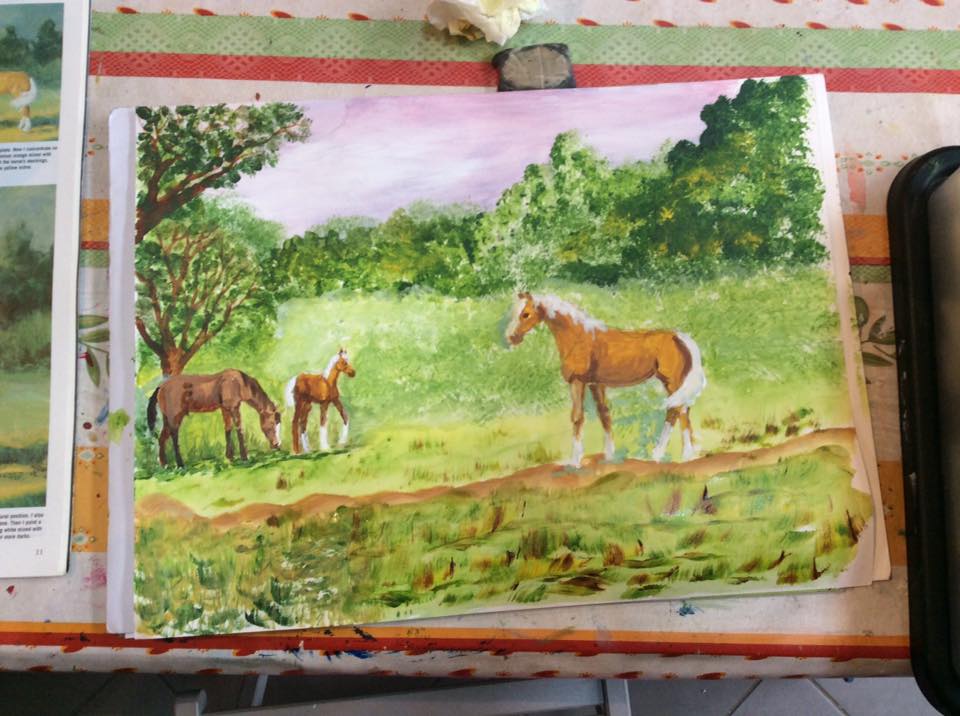 A Good Turnout
On Thursday the weather was so bad I thought everyone would want to stay at home but we had a really good turnout in the morning.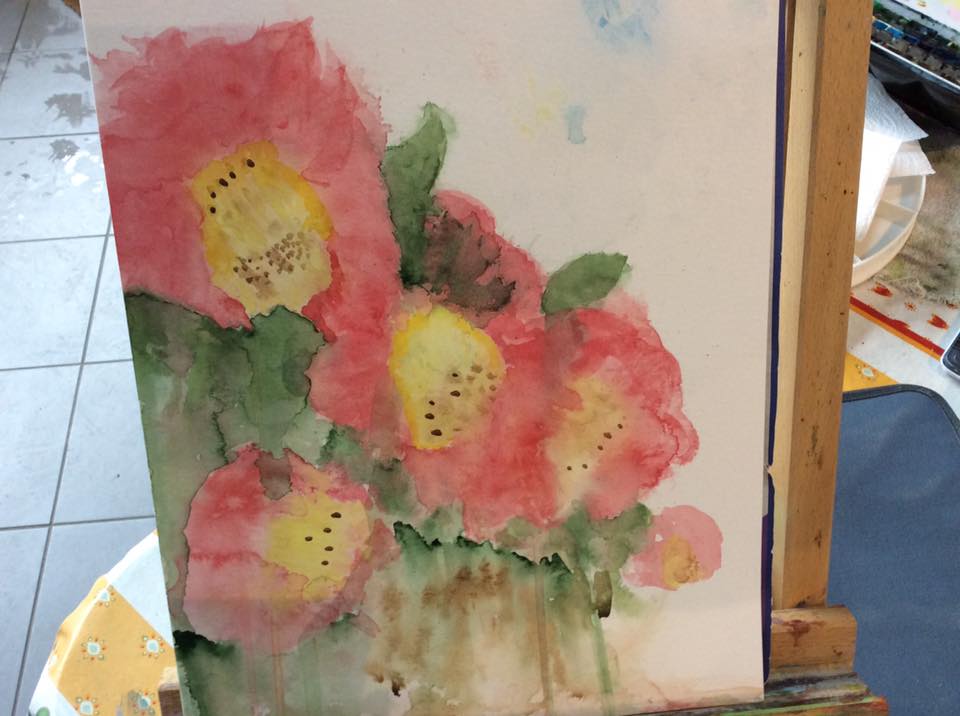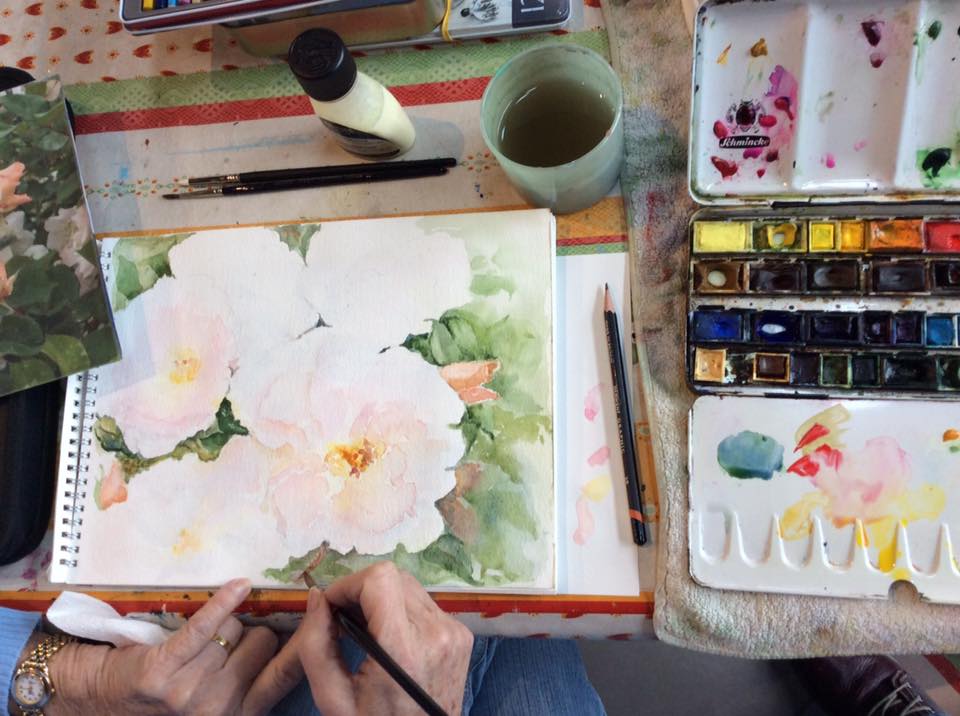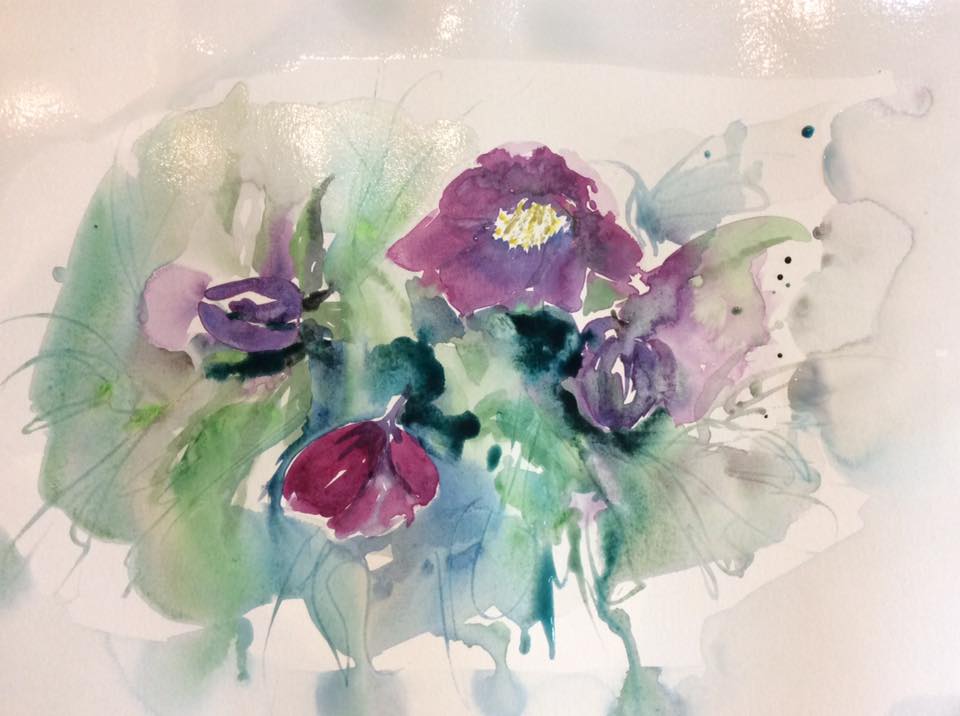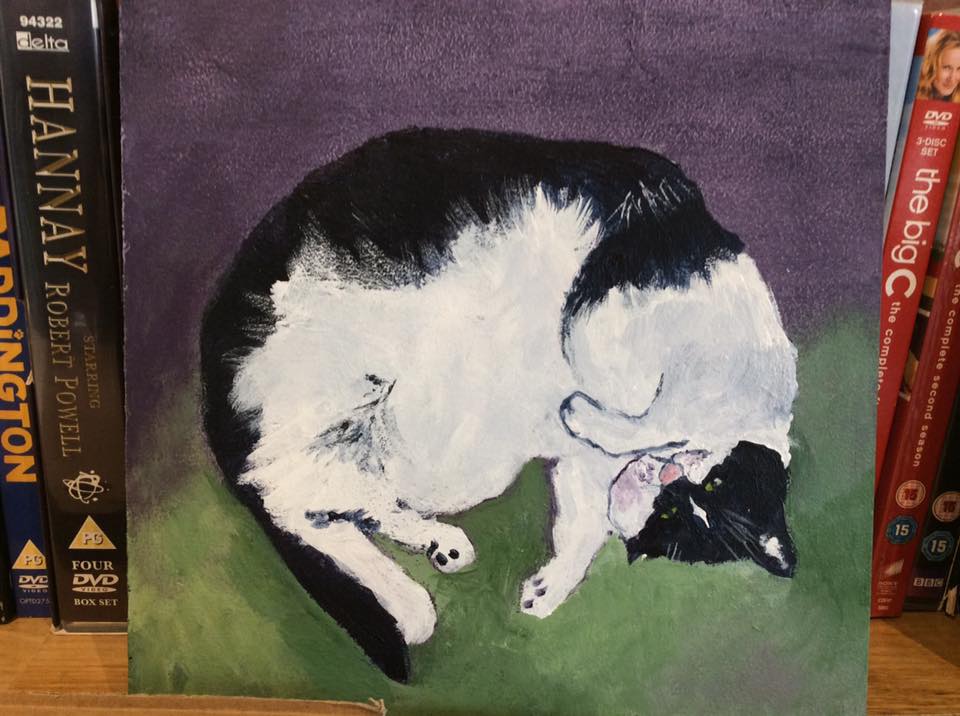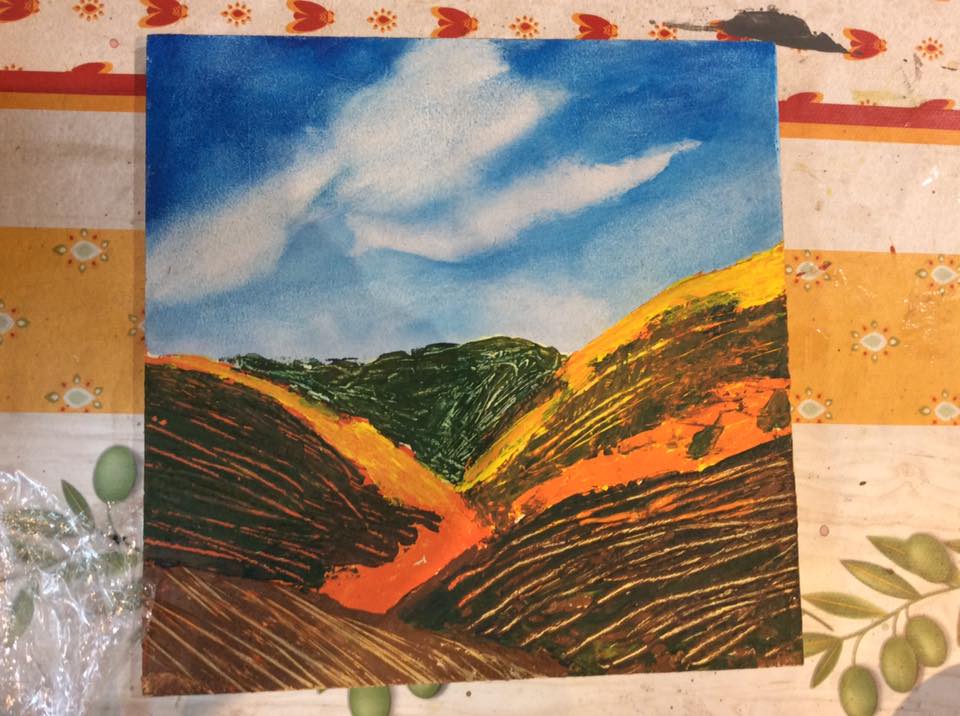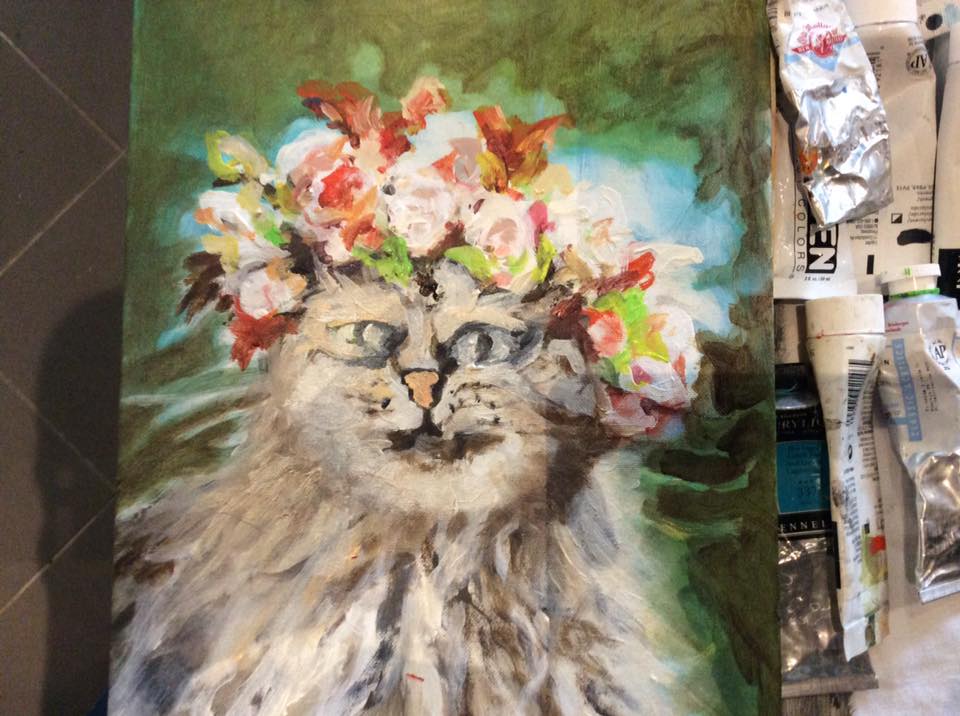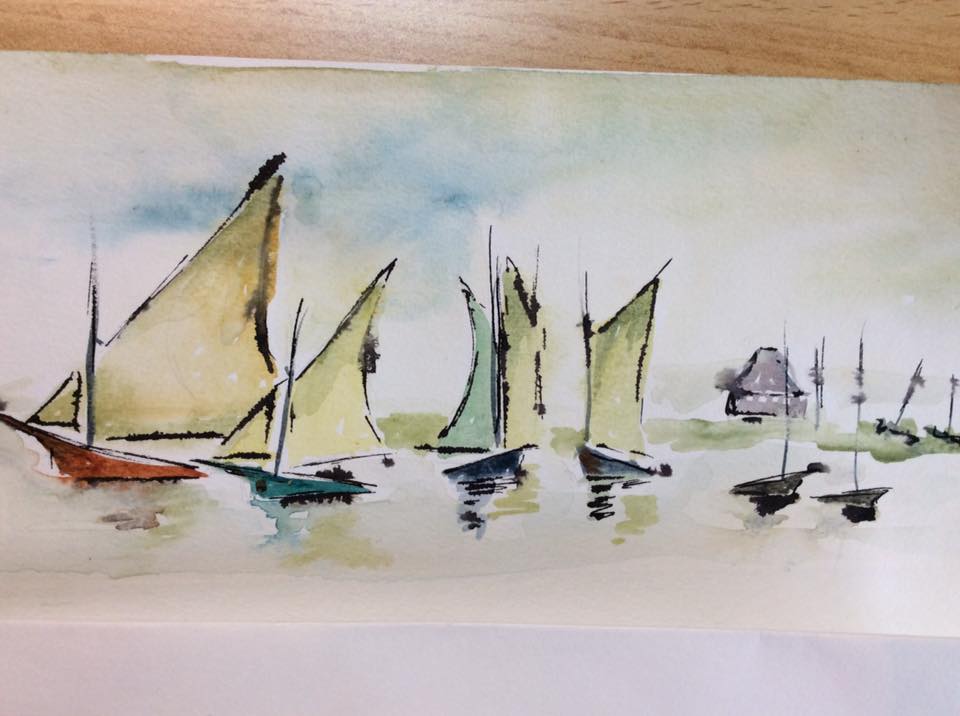 Some of us have been looking at the work of the artist Anna Gibson and trying to paint ethereally – it's much harder than it looks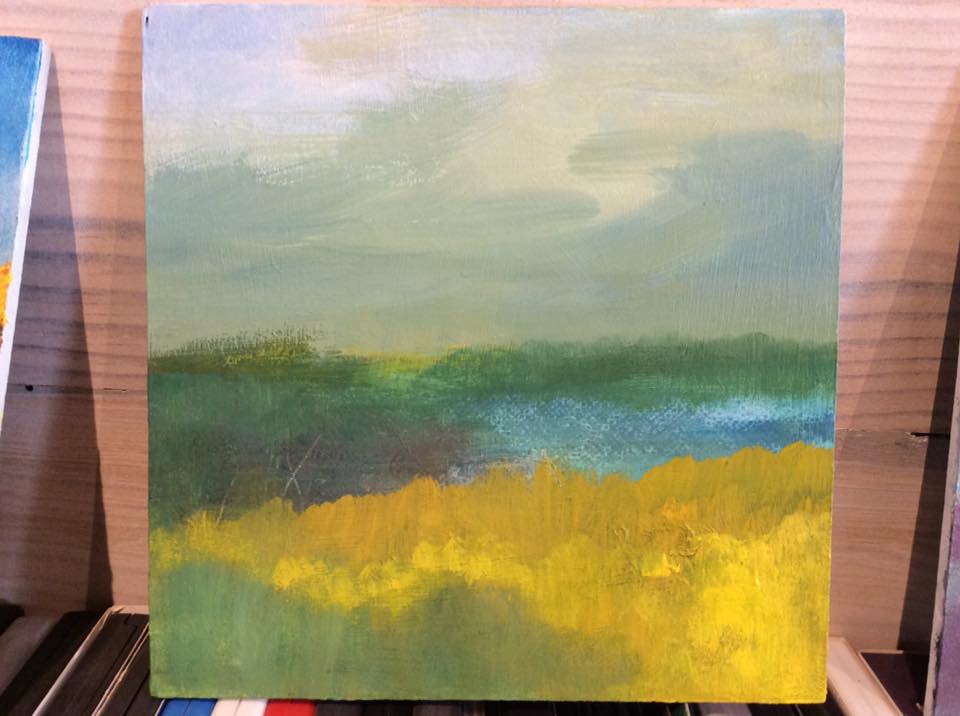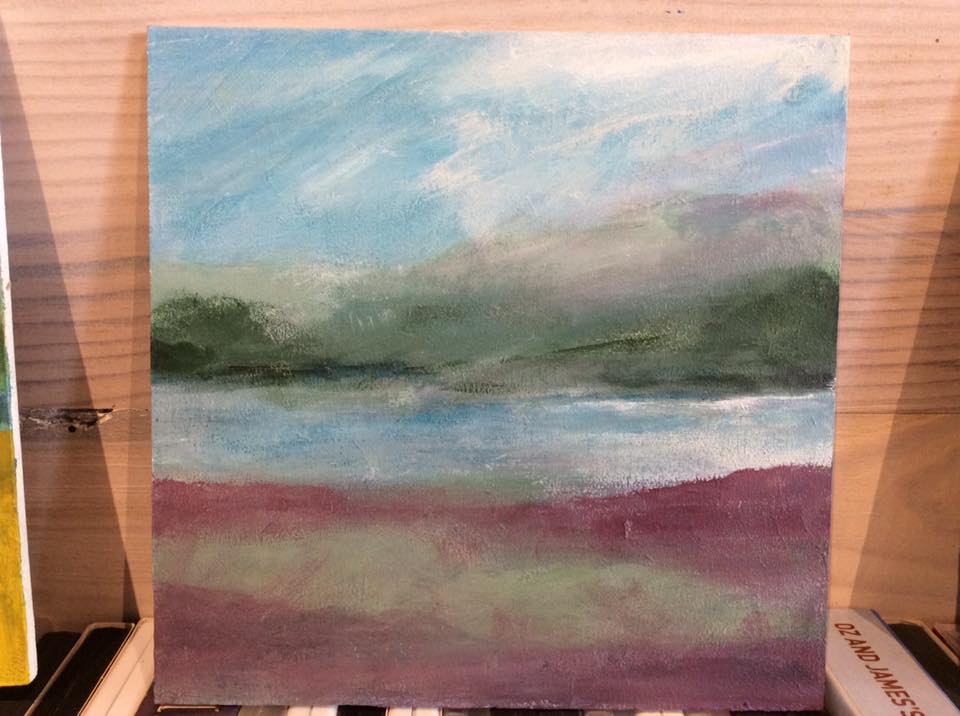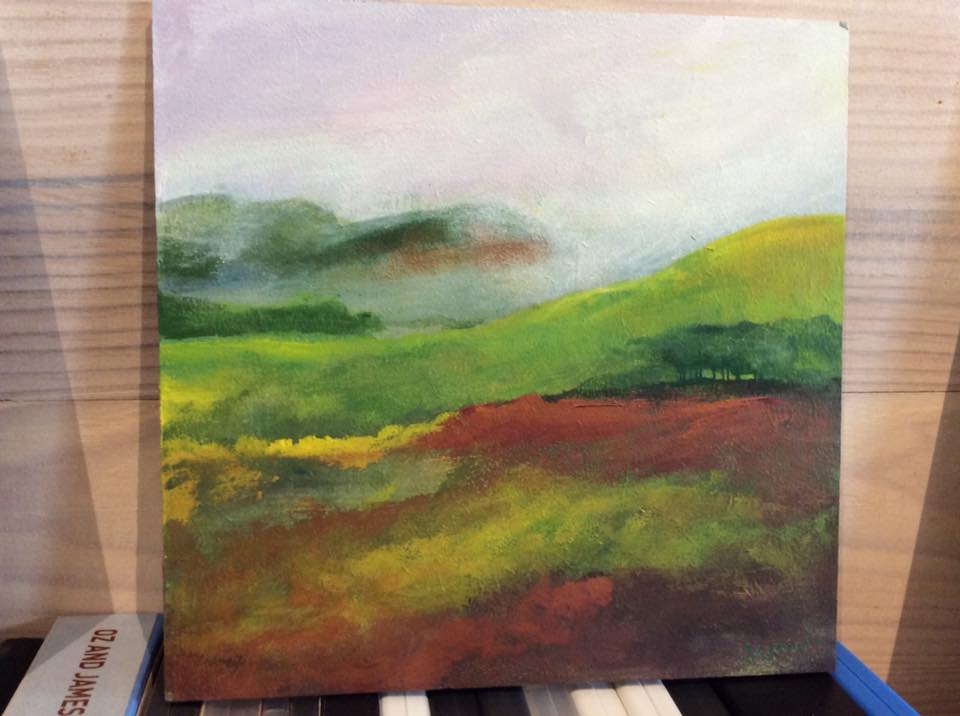 We're back on Tuesday
Being in the UK makes you appreciate the peace and quiet in rural France. The traffic is constant and manic and this time we had to contend with all the floods. I do hope that things get better and dryer soon for all the poor people who have been affected by them. The sun is shining here though and the garden beckons. And I must remember to make some flapjacks for the start of Jeudi Art on Tuesday morning. Looking forward to seeing everyone.
Trying to be an impressionist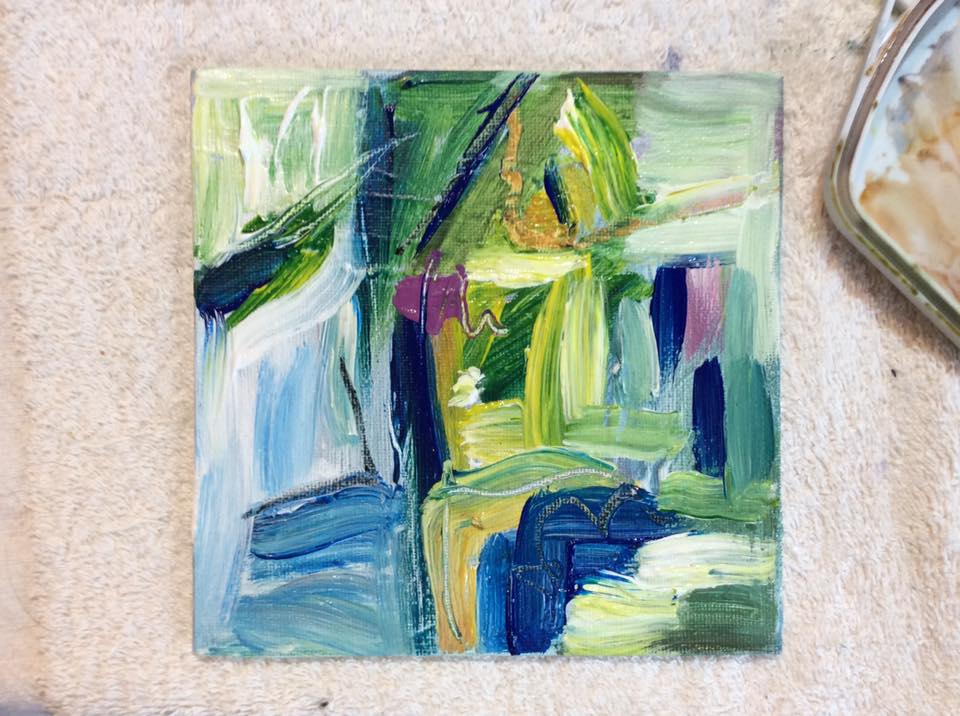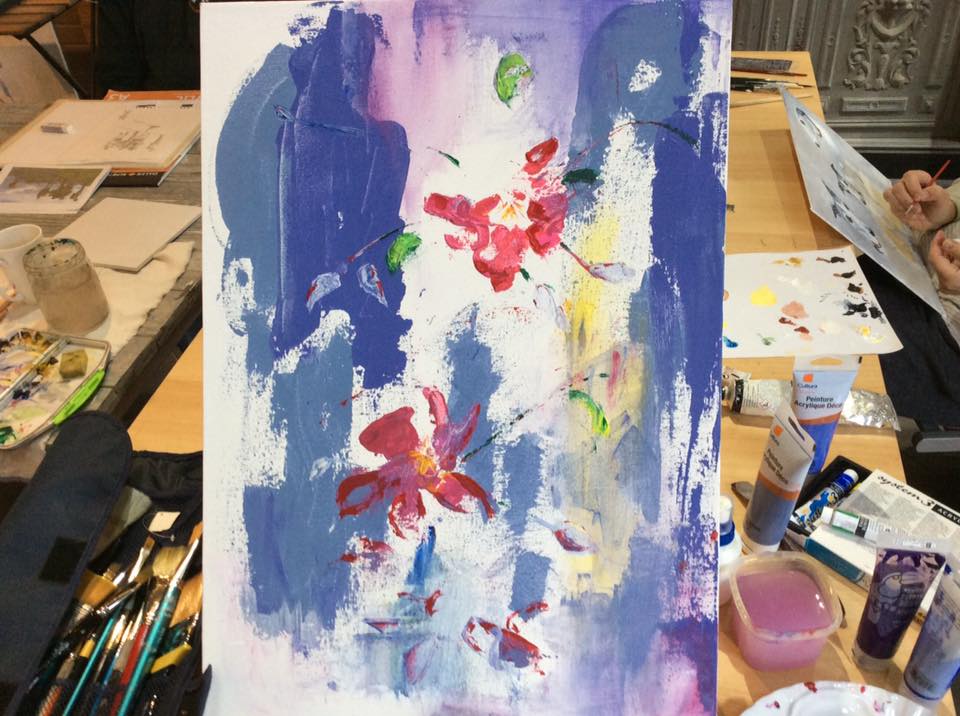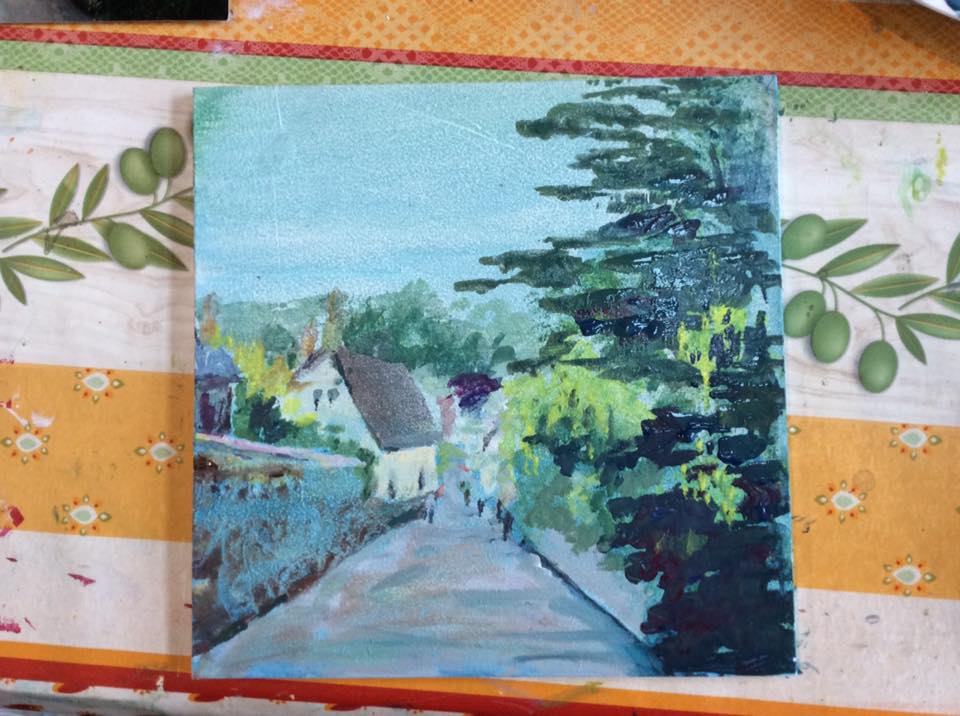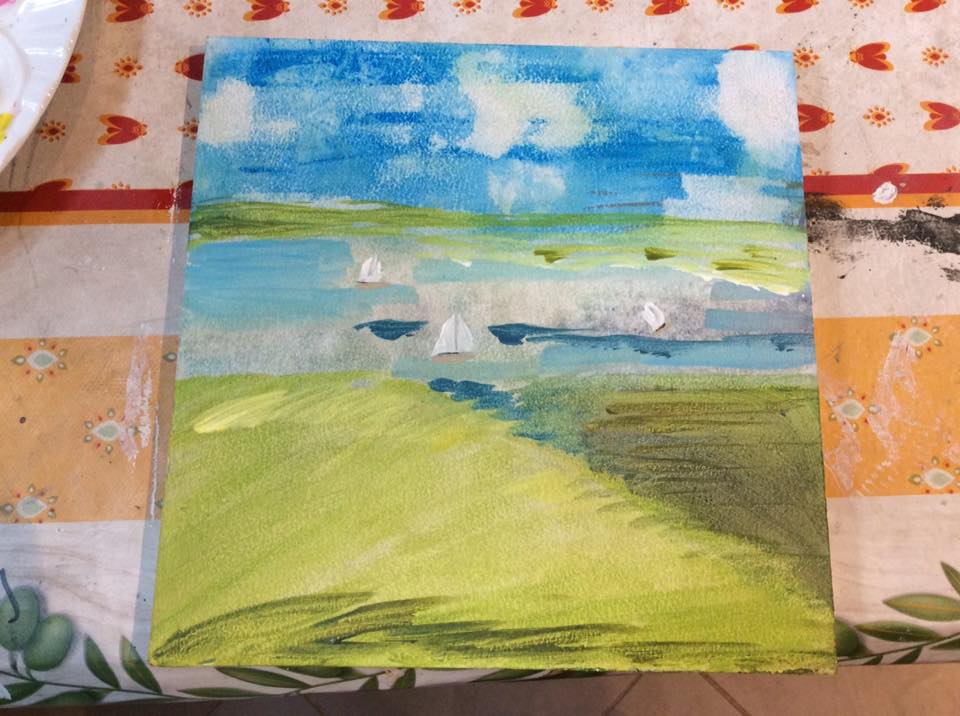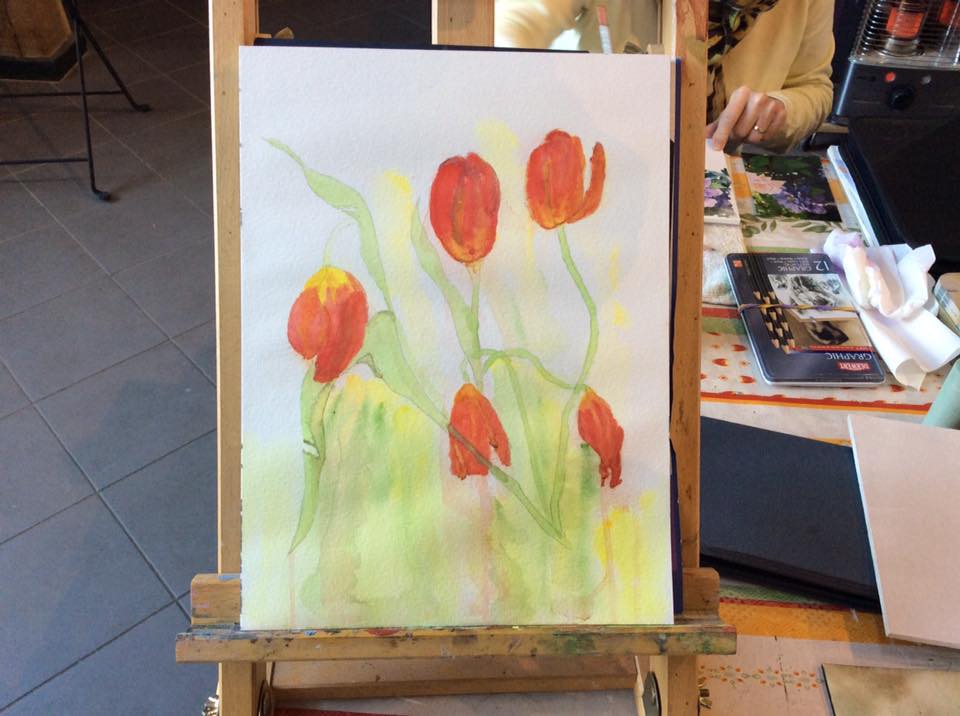 Daniel is going through a tree phase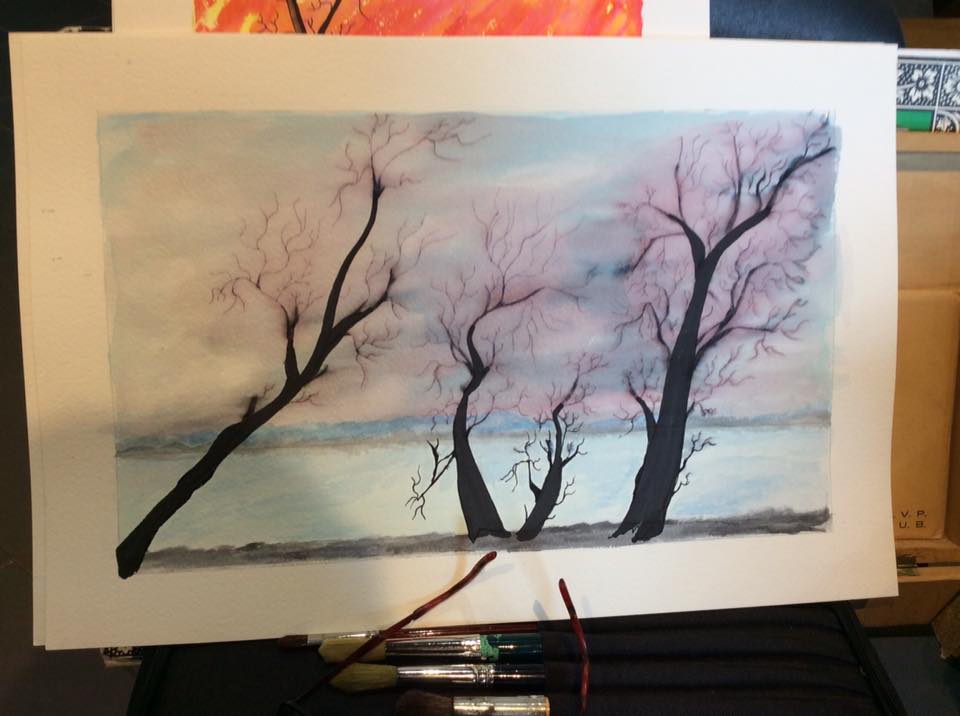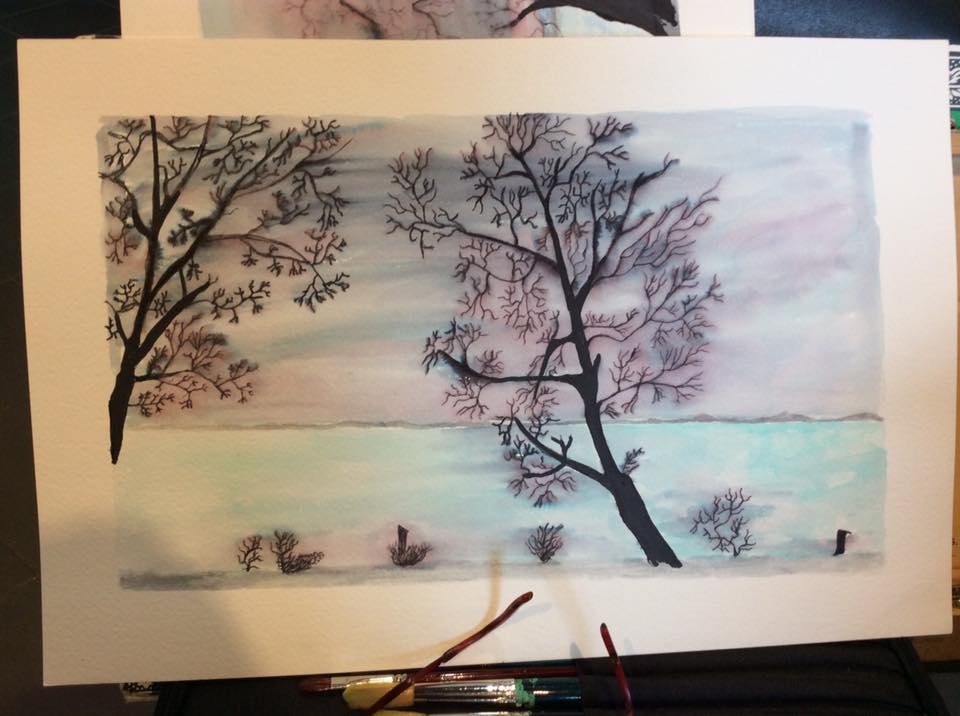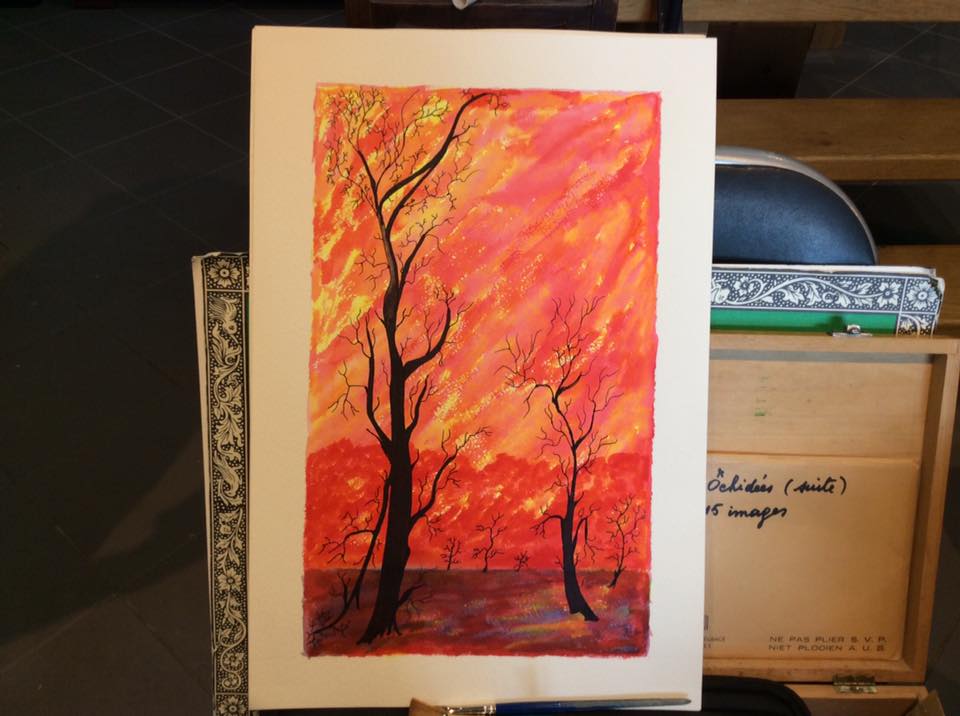 lots of beautiful work
Lots of people in this week. The weather has been sunny but a bit cold. The pellet burner keeps everything toasty in the barn though. Lots of work has been produced this week. Colin paints at home so he is very prolific. His golden fields in pastel is beautiful. We were trying to paint in an impressive way this week but some of us found it very difficult, Frances was happy to get back to her comfort zone and was doing fantastic water colour work on Thursday morning. But it's good to stretch ourselves. I painted over a couple of small paintings but was happy with the final attempts.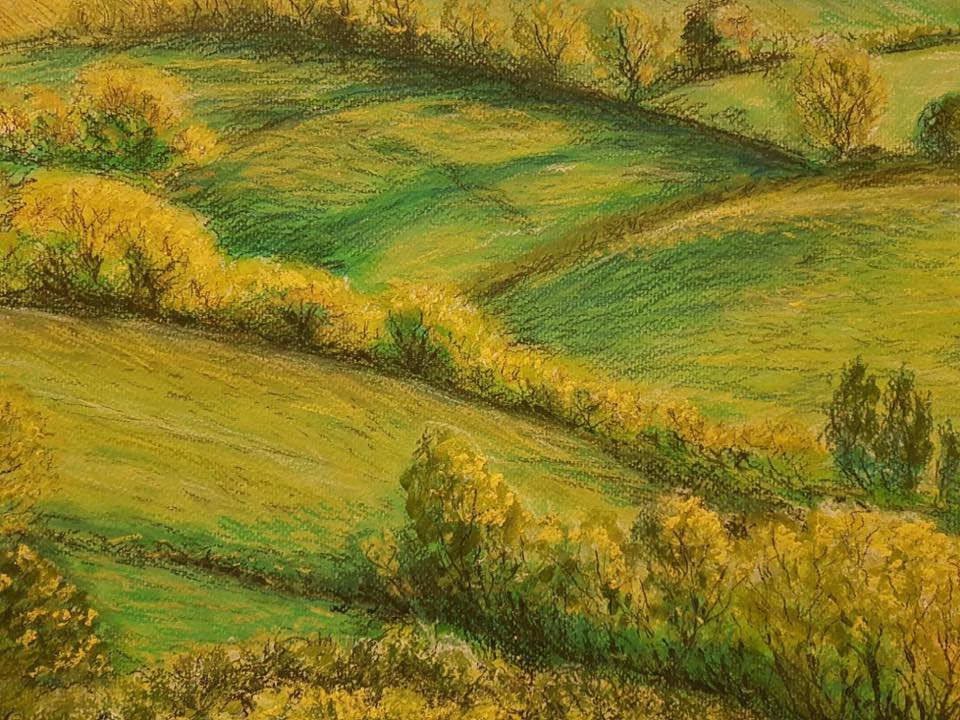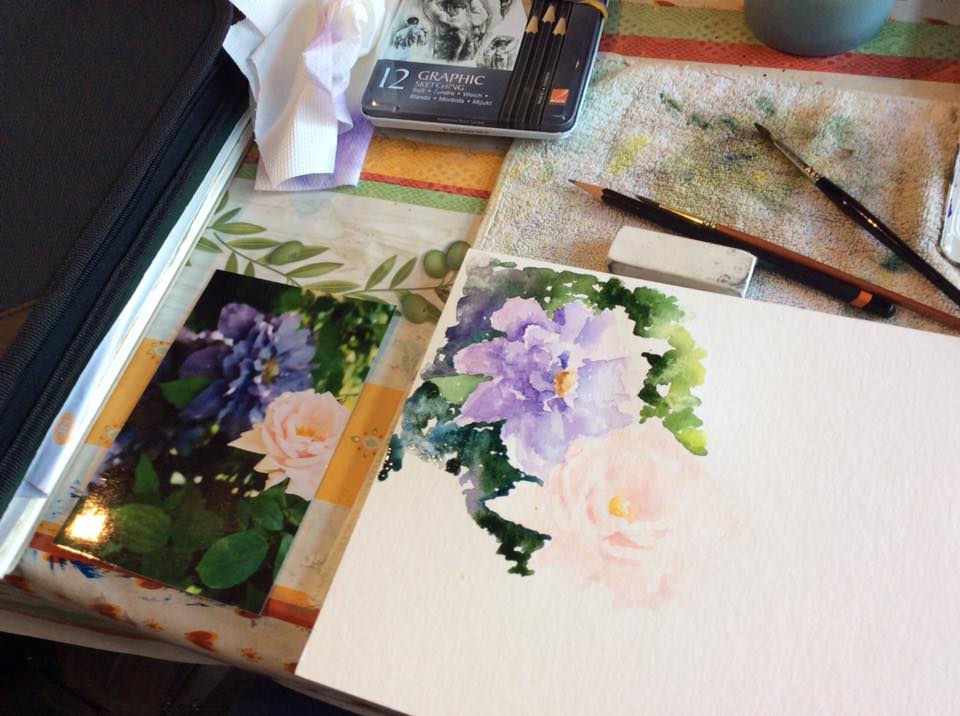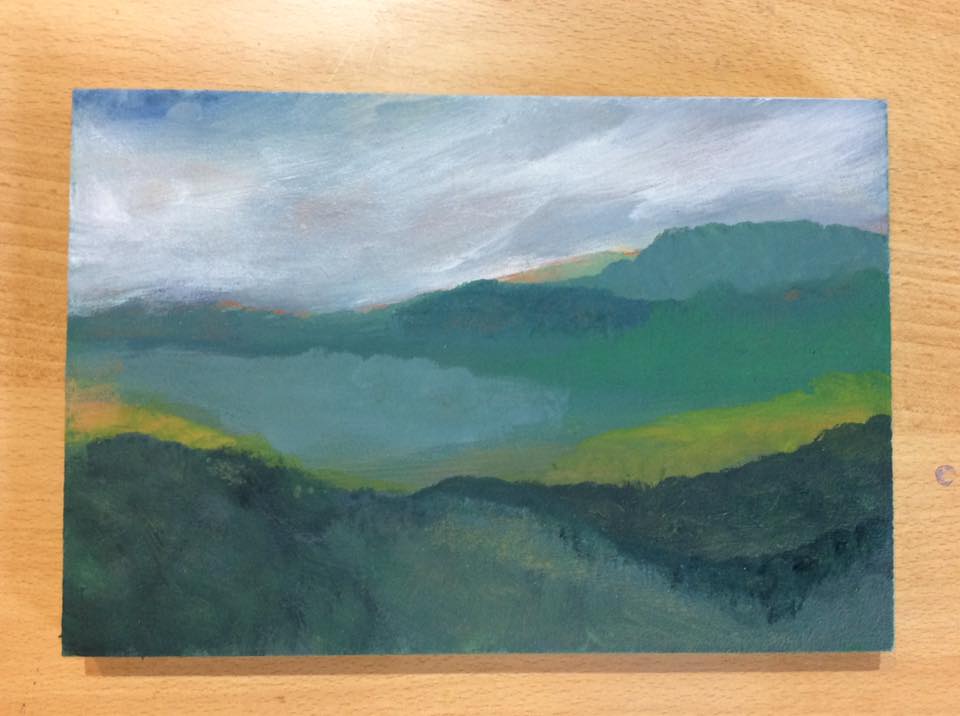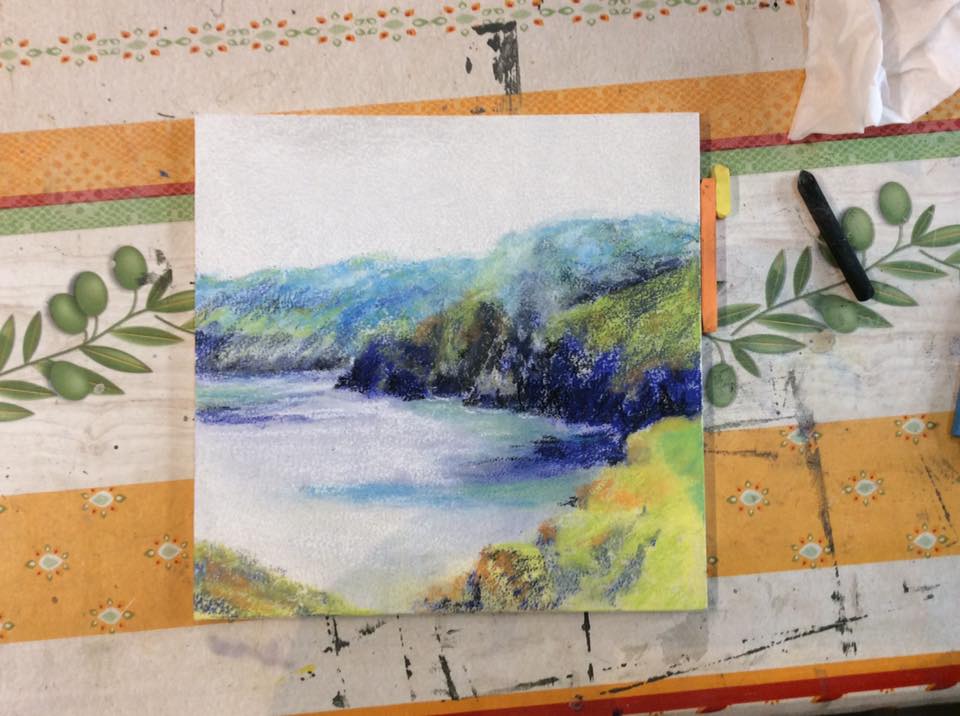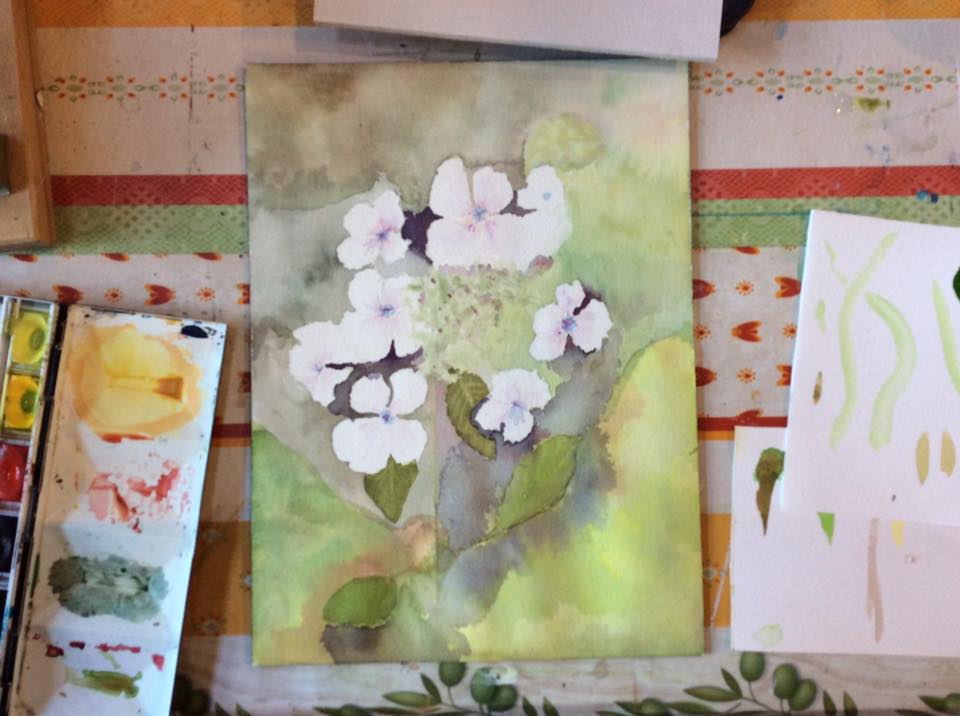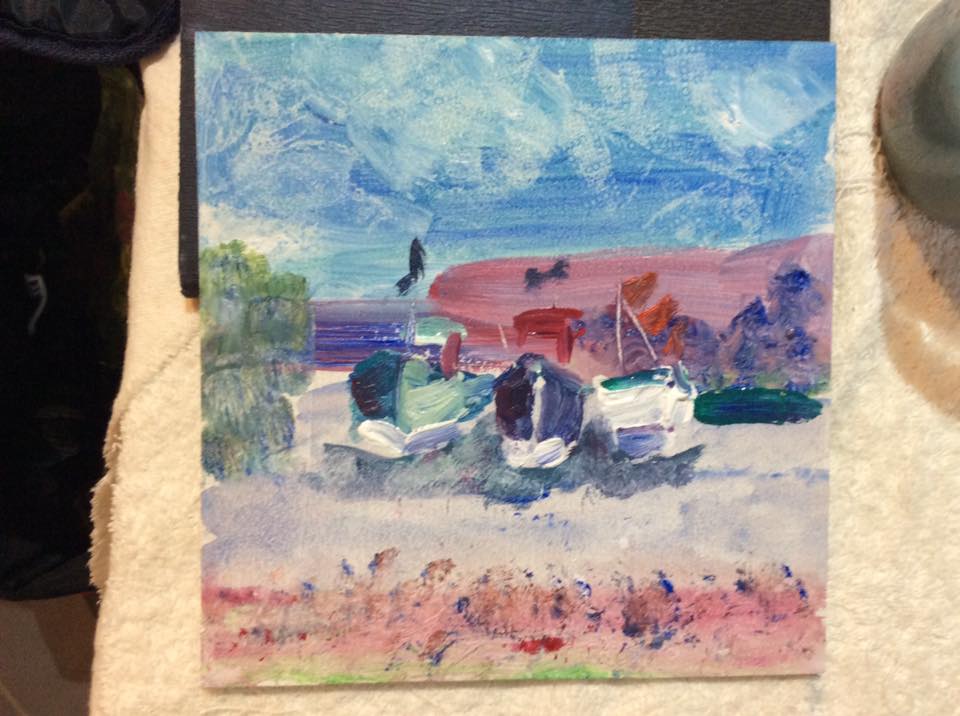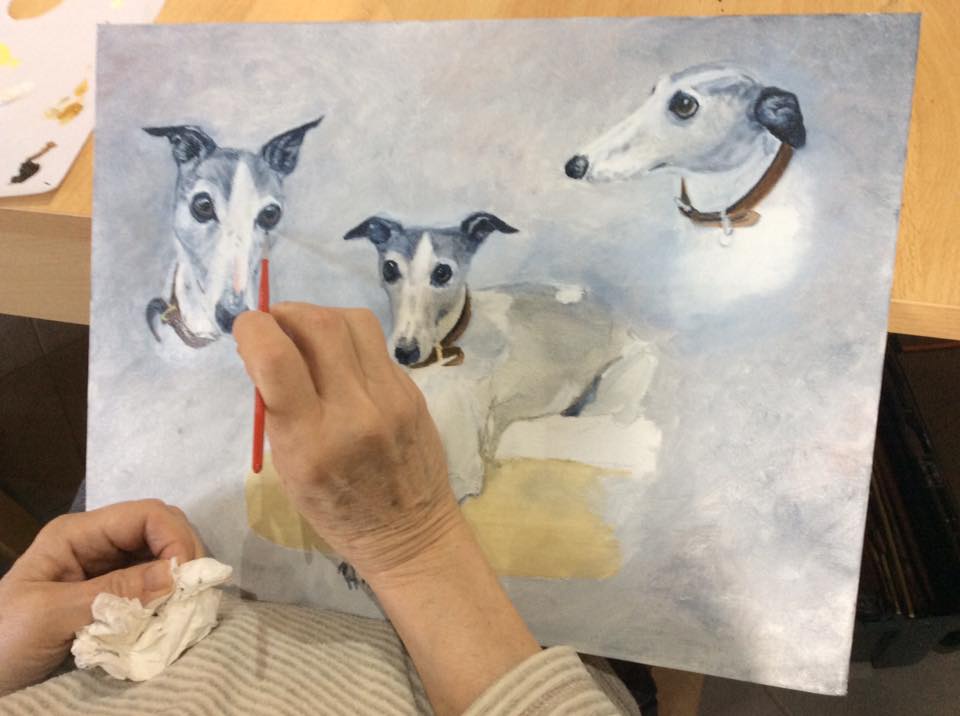 Chris, as usual, paints the most beautiful animals
A fresh start
Lots of enthusiasm to start the New Year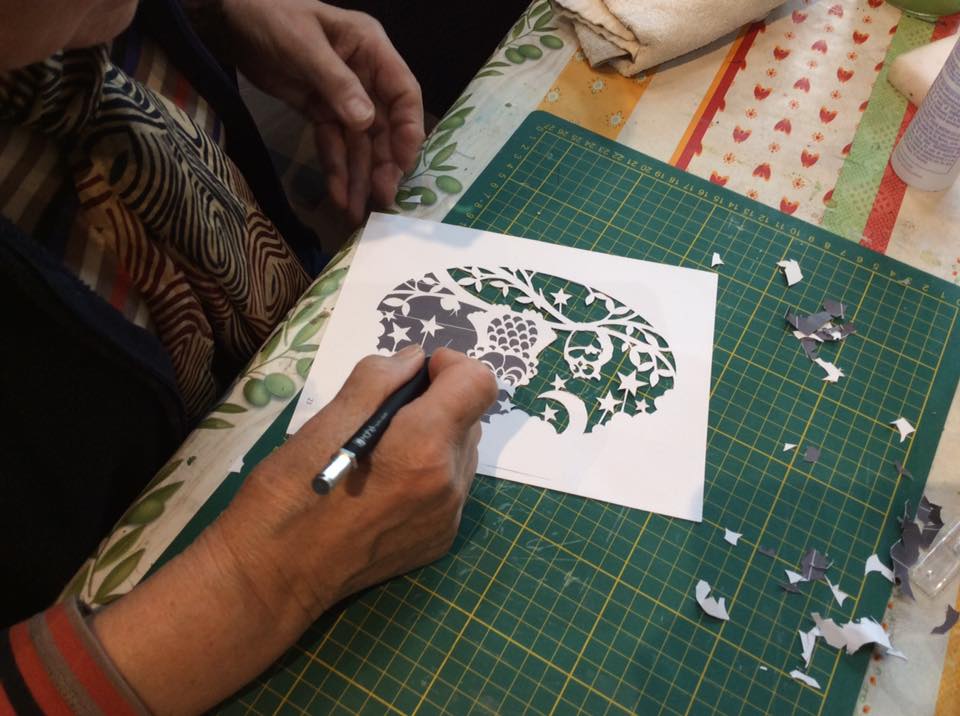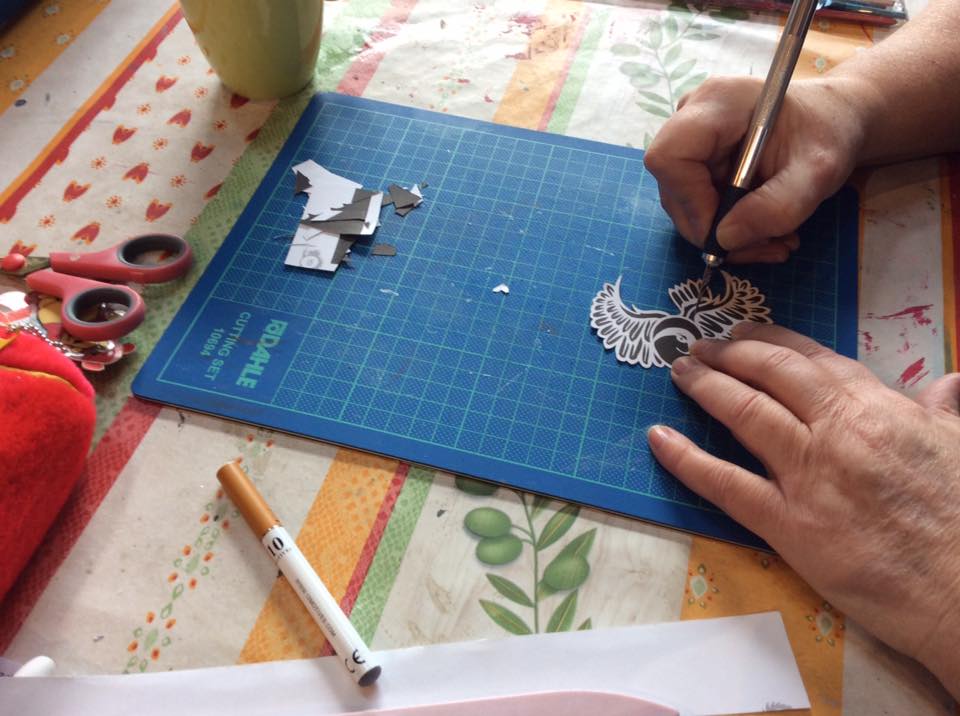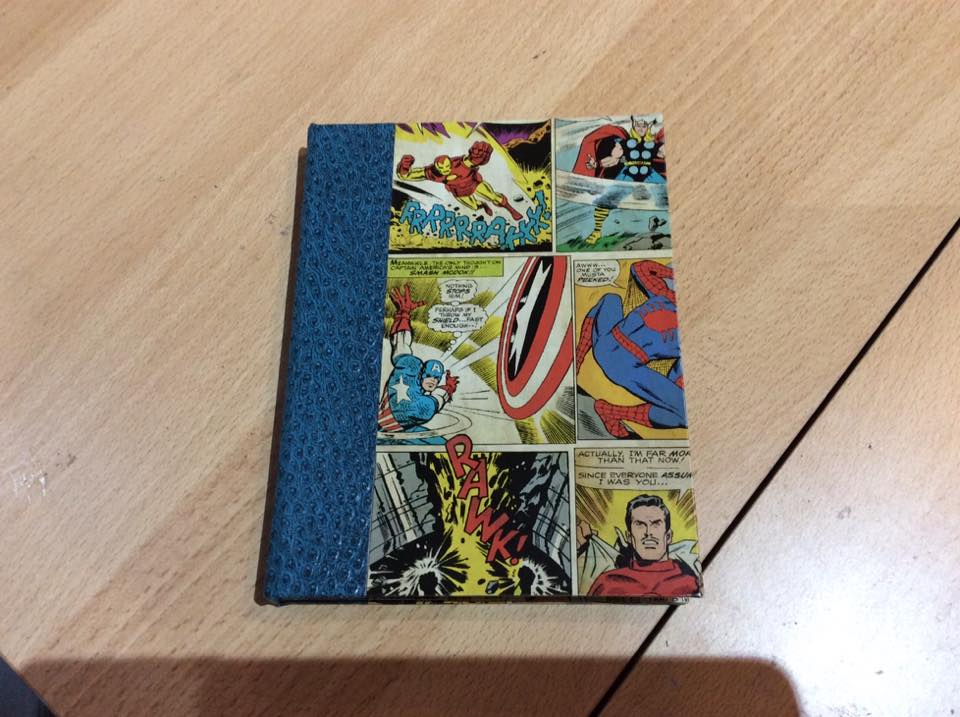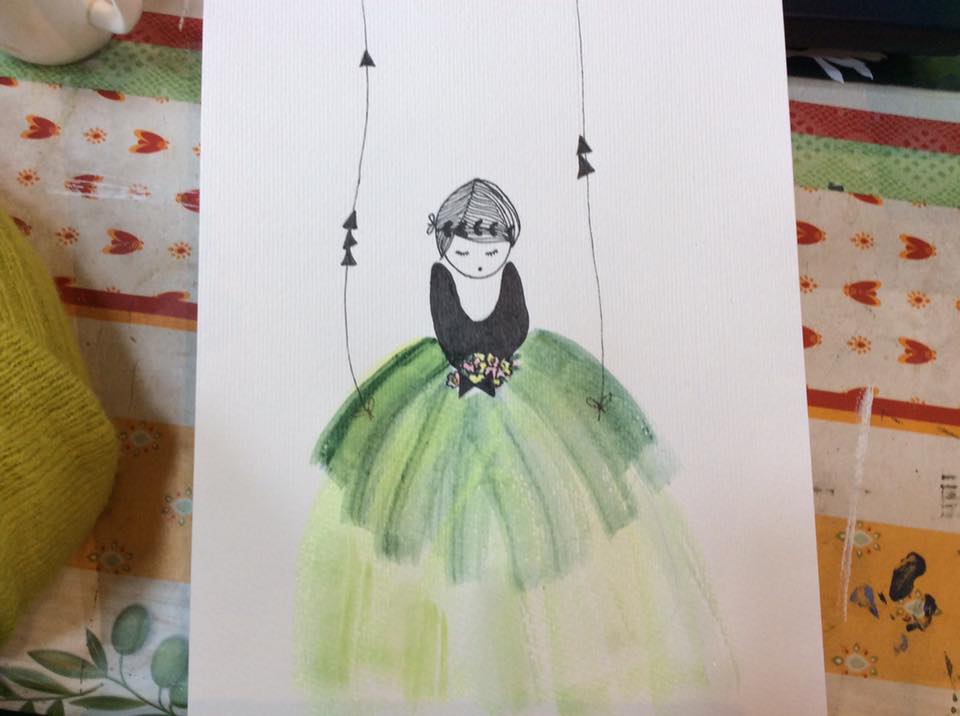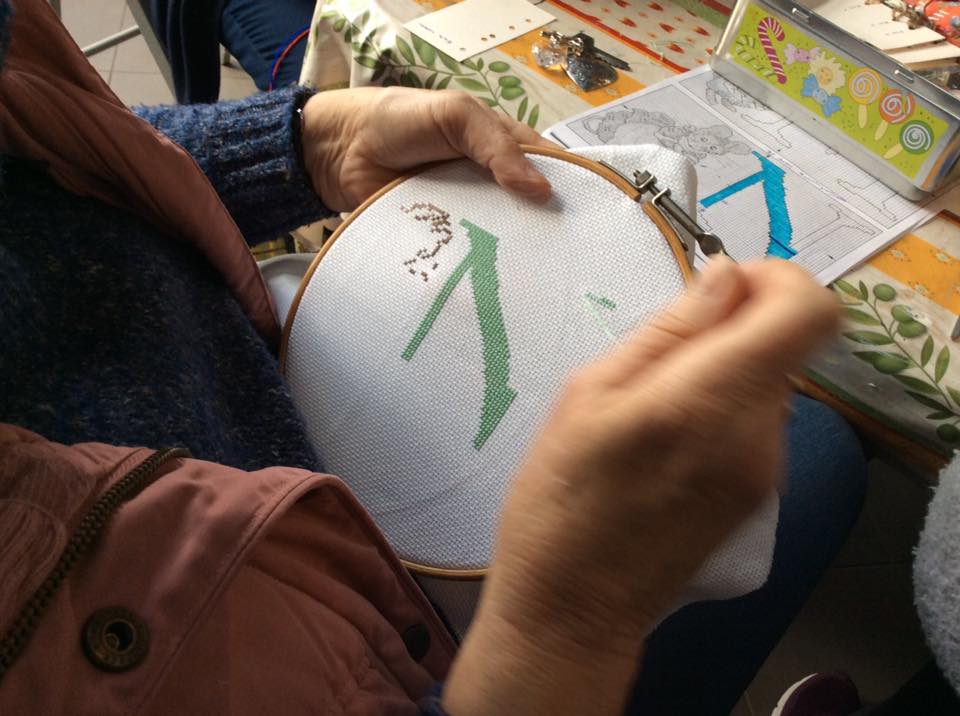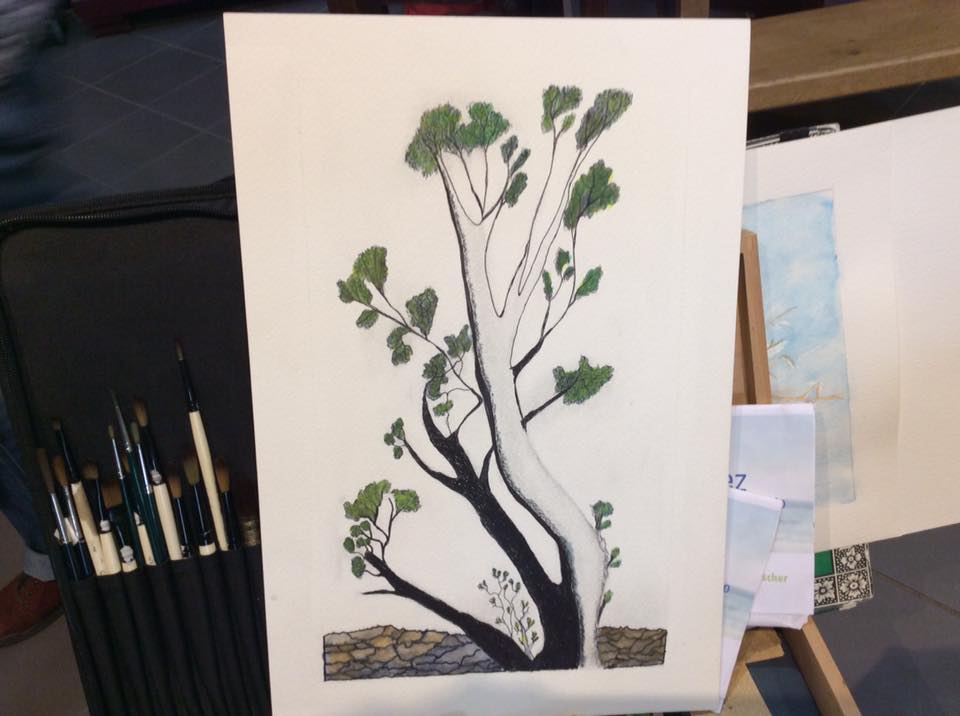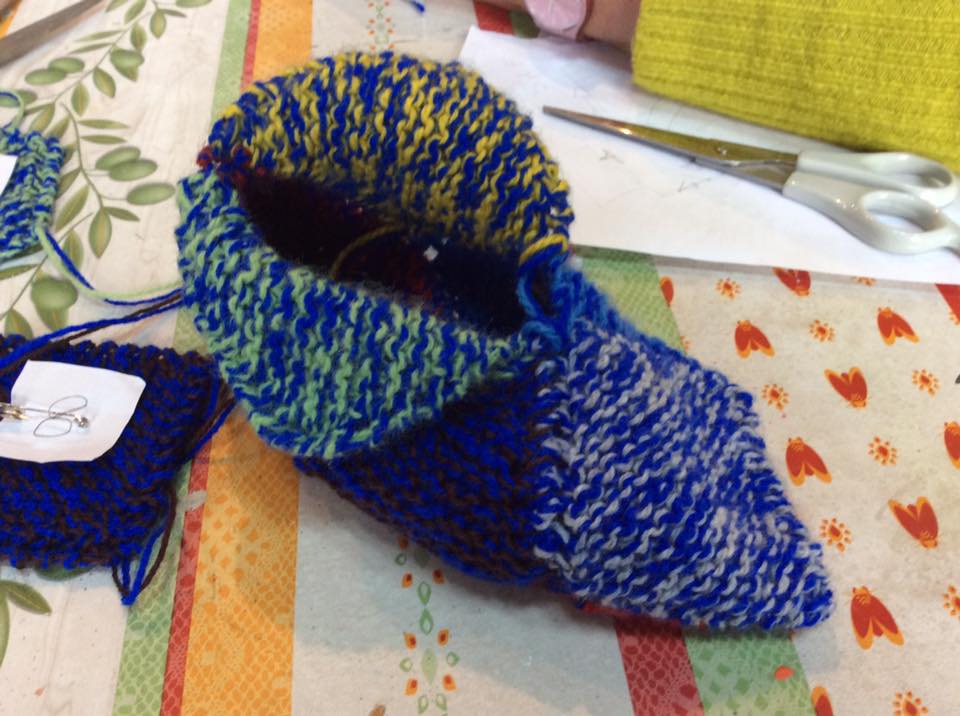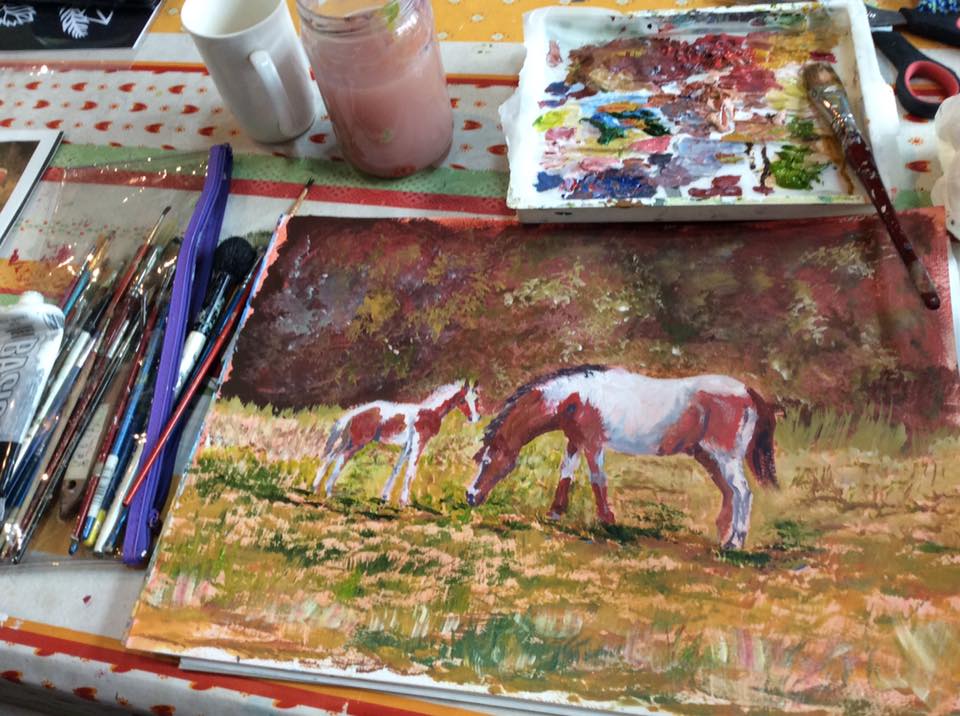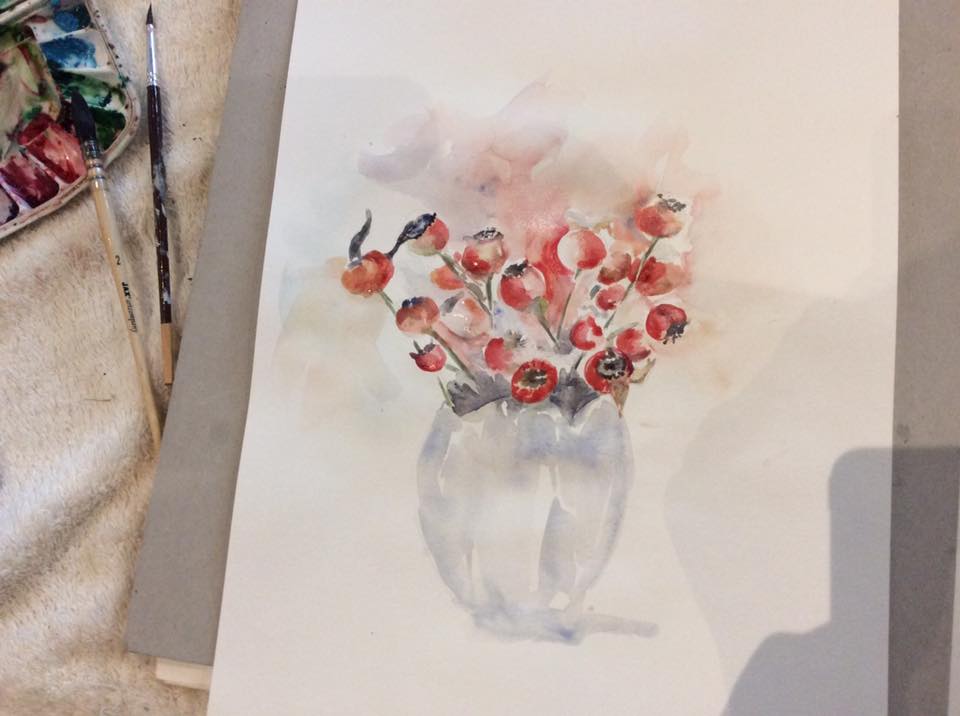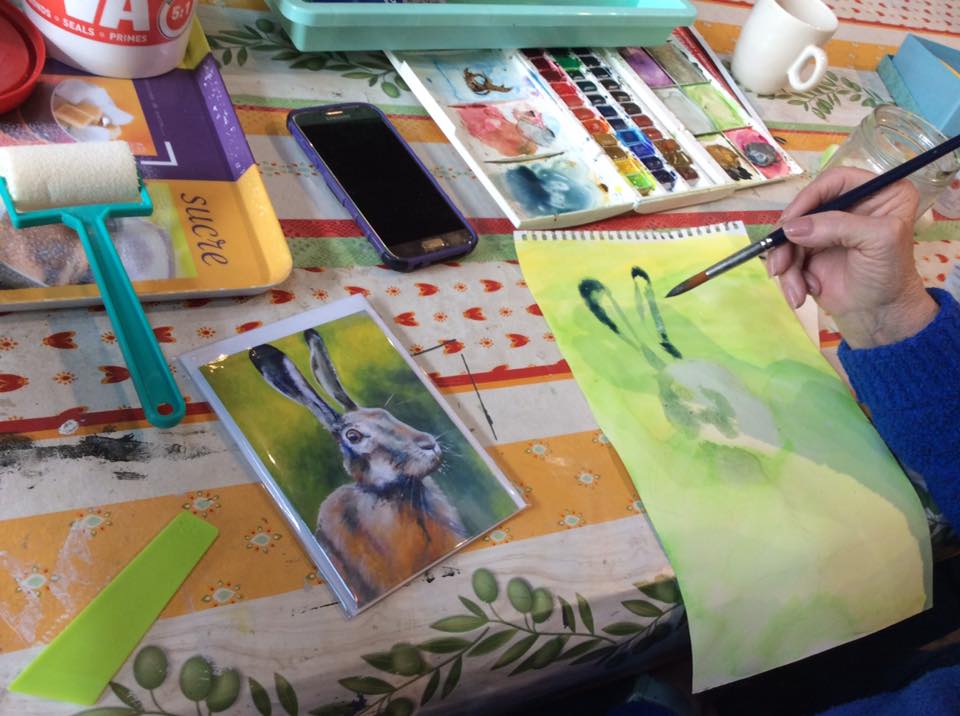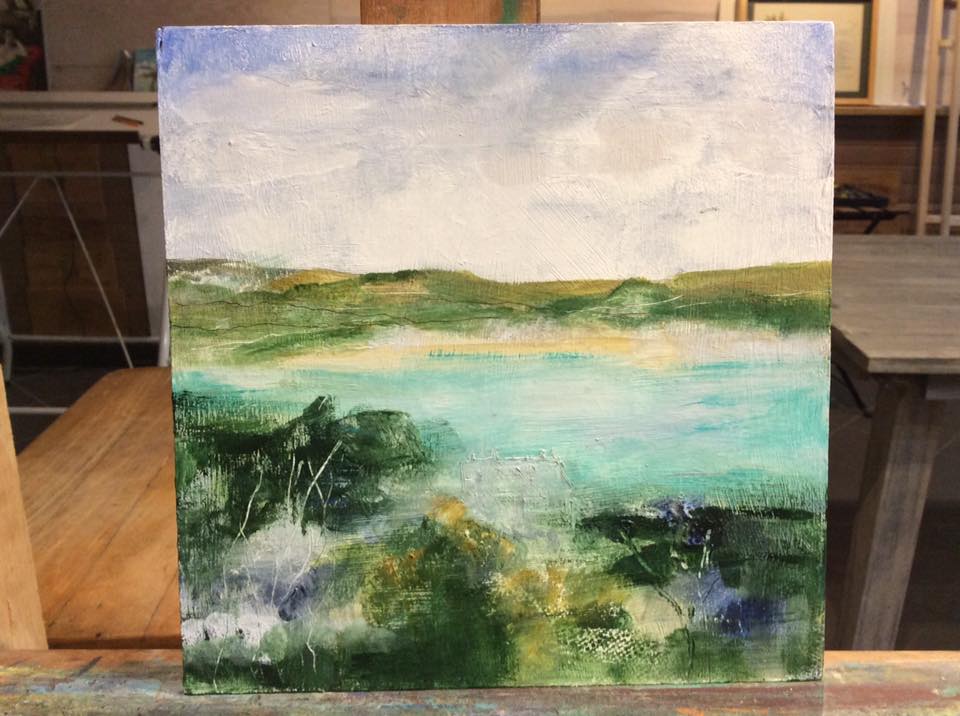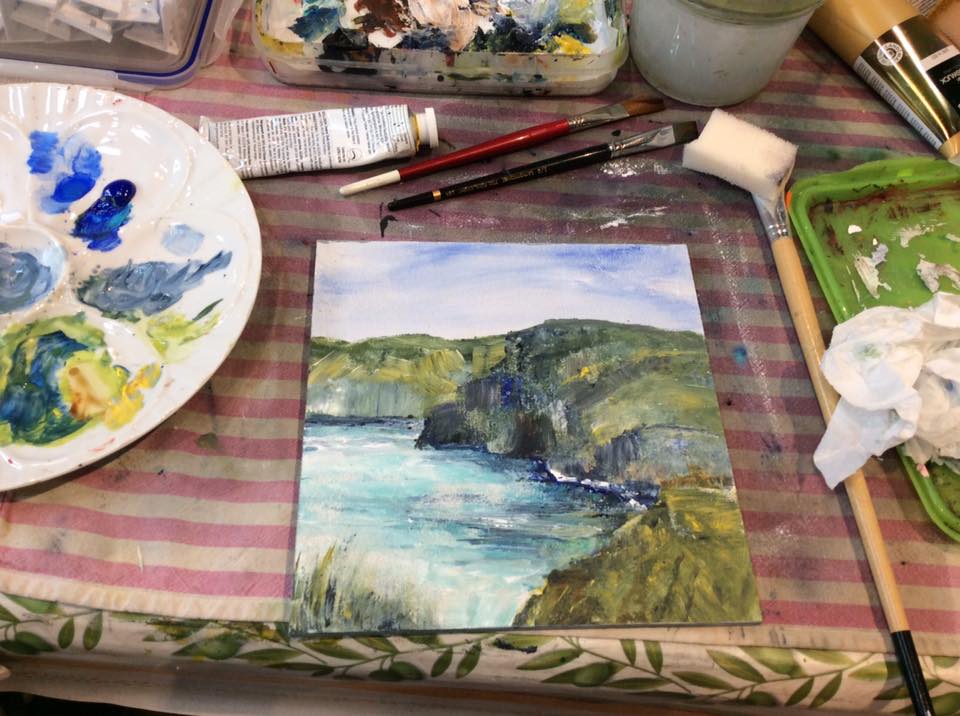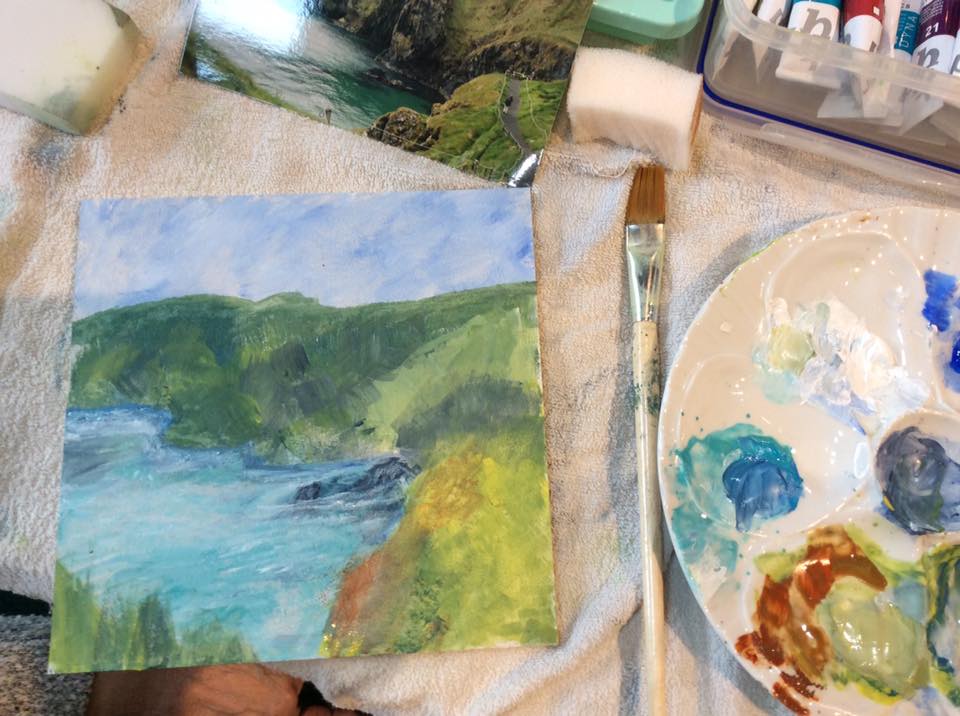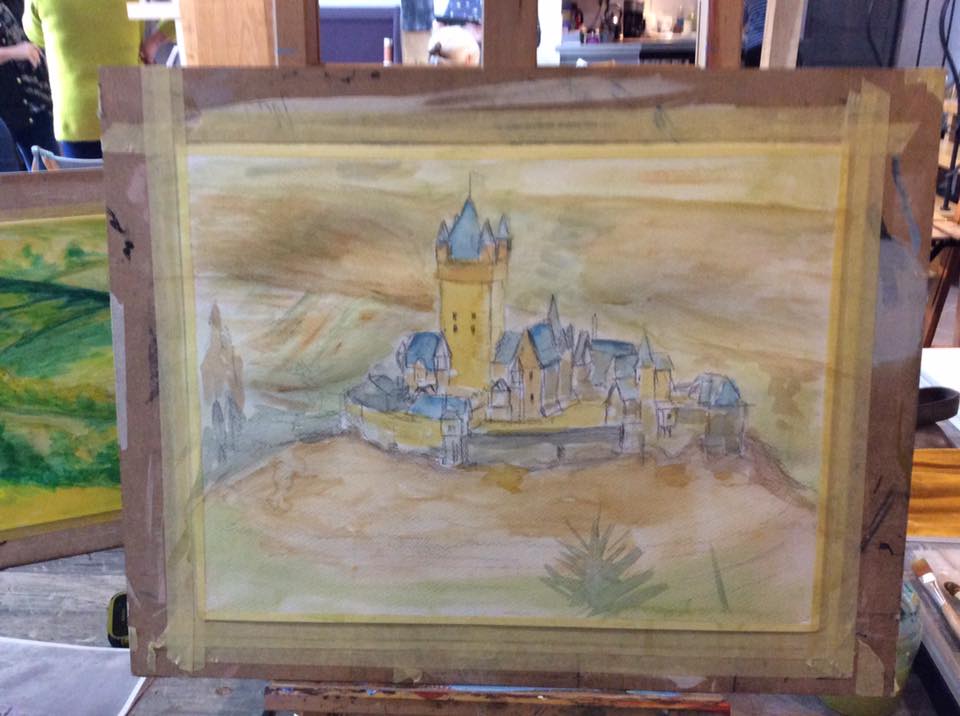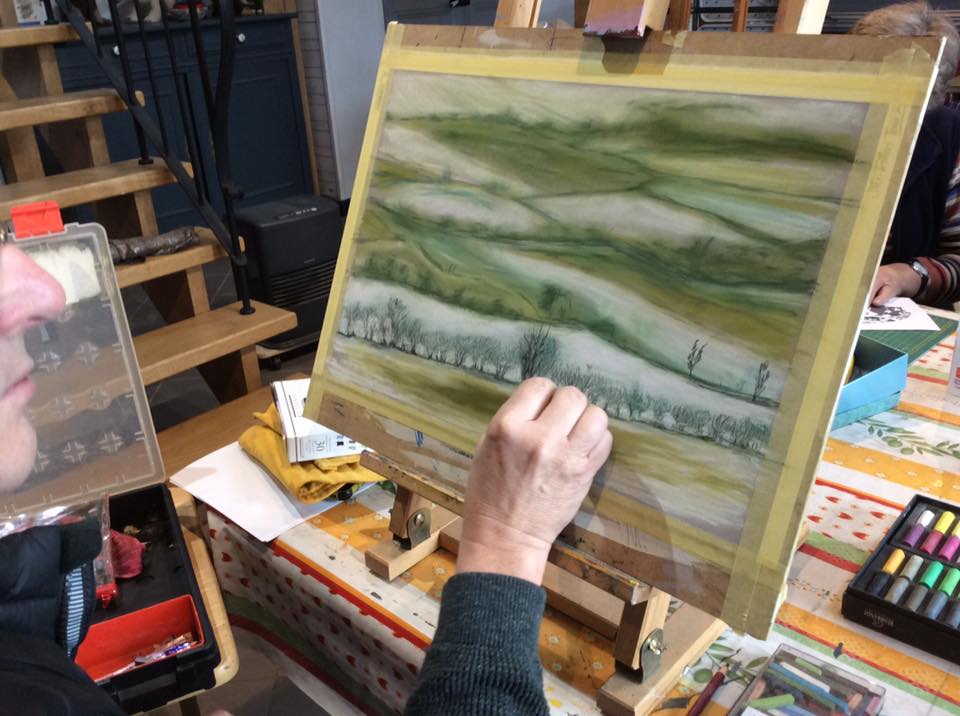 Happy New Year
We hope that everyone had a very lovely festive time and look forward to starting Jeudi Art again on Tuesday 21st January.