Another cartonnage workshop
This time we were making a pencil box. It was quite tricky but it has enthused us all to go on to make other boxes in different sizes. Watch this space
Exposition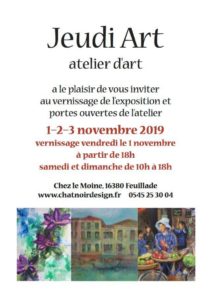 Last weekend we had an exhibition starting Friday evening with a vernissage and we were then open both Saturday and Sunday all day. We had over 80 visitors and although not very much was sold, the enthusiasm and praise for the work was overwhelming. On Saturday afternoon Jenny Gilbert rounded up her poets and they did a recital. It was fantastic.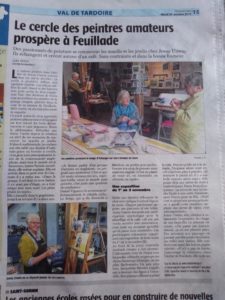 Earlier in the week an article about the group appeared  in the local paper. All in all it was a great success despite the awful weather.
Here are pictures of the barn before anyone arrived
Cartonnage
Ulrike came and taught us how to make a beautiful notebook with decorative paper. It was so popular that another course is planned for the end of the month.
lots of catching up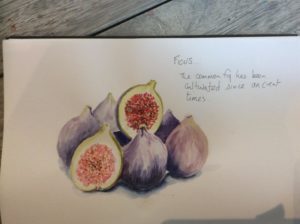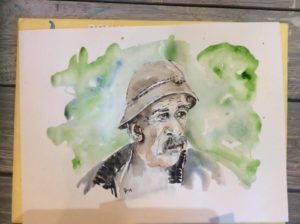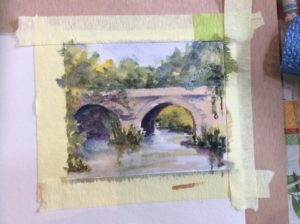 lots of beautiful water colours by Dawn, Jackie and Dawn (no 2)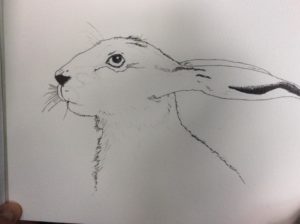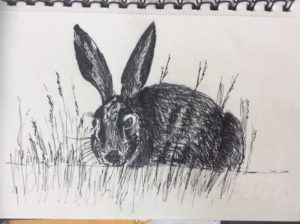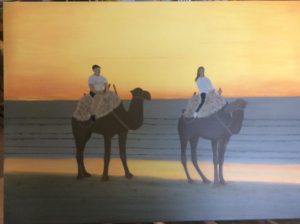 Anne was painting a picture of her grandson and girlfriend as a present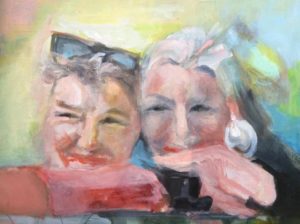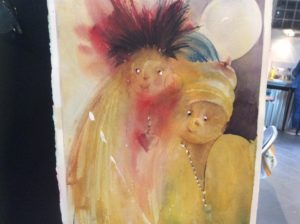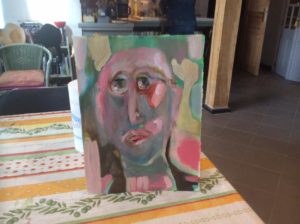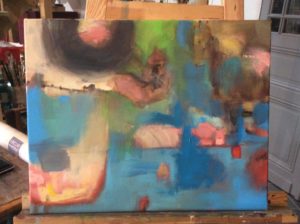 Gabrielle does some wonderful colourful work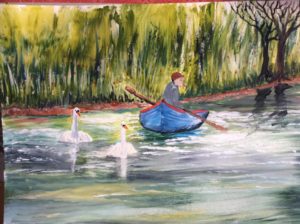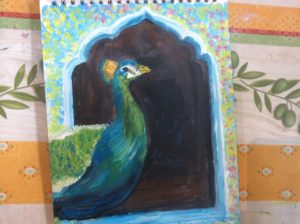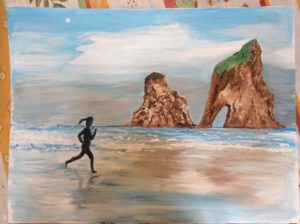 A few from Patricia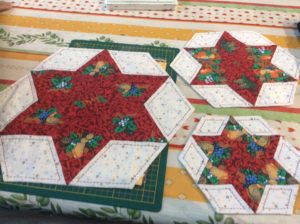 patchwork from Margaret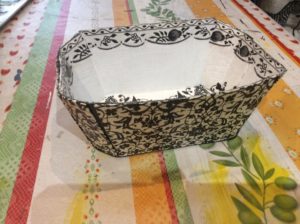 cartonnage from Brigitte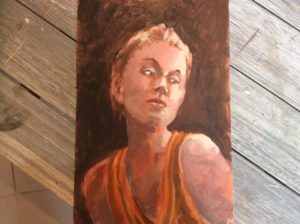 A beautiful painting from Eric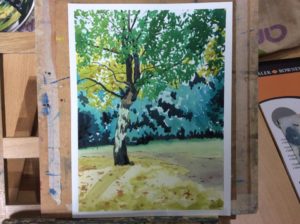 Steve was attempting (and succeeding) in creating a painting in the style of the coastal posters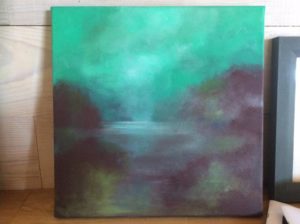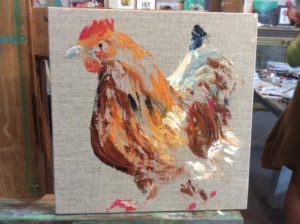 … and a few from me
A couple of poems
In a Shady Nook by a Babbling Brook.  
All large rivers intrigue us –
Our servants since time came upon us.
We harness you to our needs,
You, reluctant, always comply and resign yourselves to us.
Smaller rivers seek quiet countryside to hide . . .
Then delight us!
You calm and caress us.
You peel back our days when you flow before us.
We pursue a wonder at your clear water.
Moving without hurry,
Untroubled,
You return here.
A joy you declare here in these moments.
You demand that we
Be still,
To soak in this serene scene and
Pay homage to this ageless stream caressing its bed of silent stony sand.
The stream is Home to delicious intrigues of living creatures.
They are happy in its changing depths,
Its shallow sand pools.
Upon its mossy banks, broken branches hide many mysteries
Of unseen, alone, creatures,
Busy with their business of this day.
Even they pause to take in this scene of magic they call home.
Do not simply stand;
Take time to sit, to count your fortune already deposited
Here in these moments.
Please your mind,
Sense your good luck,
Take hold of the colours of this life.
The sounds are babbling over the changing layers,
Not still; always gentle.
What luck to visit this haven by chance.
And capture forever this awaking memory.
Look to the cloud above that adds a silent cover to favour this agreeable space.
Then . . .
Kingfisher races your heart
Skimming his river to drink cool life of the day.
Stay oh stay.
by Brian Wilkinson   July  2019 .
My Mind is Leaking Memory
It takes much longer now to find
Those treasures stored inside my mind
And things I once so carefully wrapped,
I open up but find they're cracked.
And oh, the dust is settling fast,
Obscuring all my precious past.
That speech, that book, that lovely time –
Where are they now? I see no sign –
But there's a flash and there's a shade –
A recollection yet to fade.
I leap to catch it, hold it close,
Breathe life into this half-formed ghost.
My mind is leaking memory.
Soon there'll be nothing left.
by Jenny Gilbert  
A busy summer
Lots of family and friends visiting this summer. Thomas (5 and a half) loved coming into the art group while he was here. He liked doing junk modelling and painting.
Patricia has been very prolific as usual
Two beautiful paintings from Colin – one not finished yet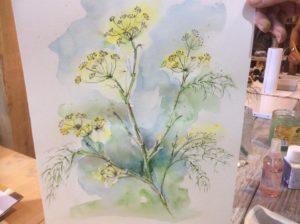 I always love whatever Jackie or Dawn do – usually always watercolour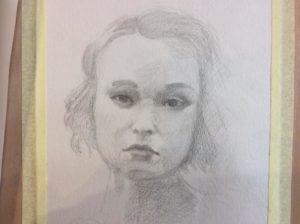 This stunning pencil drawing is from Dawn S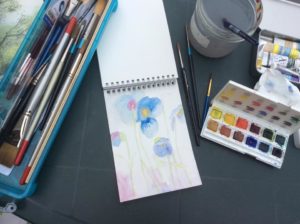 One of our guests, Janet, brought her watercolours with her even though the group was not open  while she was here. She is really improving
I felt the need to paint cornwall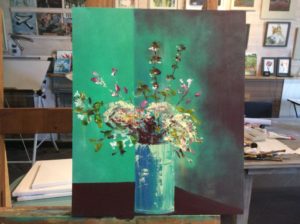 This painting started off as a Cornish landscape as well but it just wasn't working for me so I painted over it and turned it the other way round. I think I will do this more often !
always learning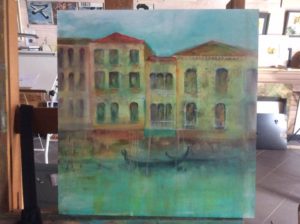 I am trying hard not to do paintings which are very detailed. It is quite a discipline for me. I love to see atmospheric paintings that are very impressionistic but find that I cannot do this myself. I am still trying and just did this Venice painting. Always learning !!
A poem
The creative writing group worked together to create this emotive poem
A View
and there I was a child
digging the deepest hole ever
fighting the tide
and building barricades
to hold back the sea
and music played from
transistor radios
and there she was my mum
anchoring down the big blanket
between  flapping deckchairs
and brushing sand from
shrimp paste sandwiches
and there too were the aunts
knotted headscarves under their chins
peeling hardboiled eggs
toes peeping out from peep-toe sandals
summer coats held close
and greensleeves chimed from
ice-cream vans
then the sea raced in
and as we moved back
we became condensed
into a smaller patch of beach
like fish in a sardine can
"what a lark!"  "Oh Lor!!"
and I don't know where that came from . . .
for here I am a man
pushing the heavy shutters
the morning sun pours in
the milky sea has become a glassy patchwork
a million mirrors moving
they are a contemporary dance
bobbin like cotton reels in an industrial mill
like the shrill of gulls
following shoals of fish
look over there
a faraway fisherman
anchors down hard
and pulls in his twisted net
and over here
a boy bike thrown to the sand
a black shape against
all that light all those lights
I can barely see
It's as if the world has stopped.
From the last couple of weeks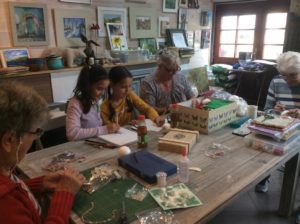 It was lovely to see Gill's grandchildren, Millie and Madie, today. they were sketching and making Christmas decorations – yes I know !!!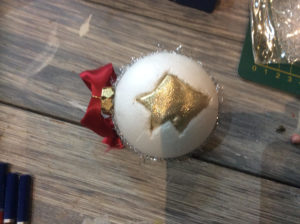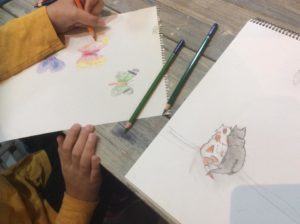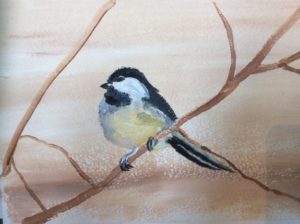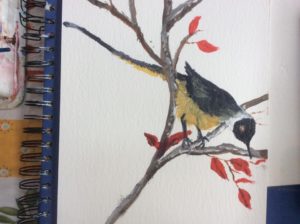 Patricia did these beautiful birds
I love this from Colin – a very busy Vietnamese street vendor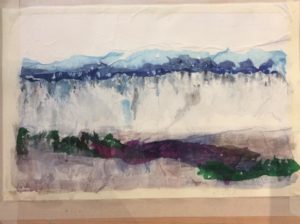 Jackie was experimenting with tissue paper and water colour – beautiful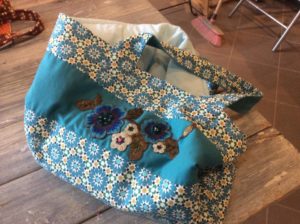 Gill had made this gorgeous bag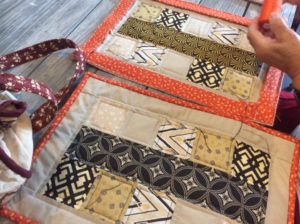 … and Brigitte was making patchwork table mats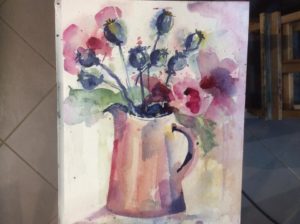 A couple of water colours from me. I totalling spoilt the bottom one by adding a background so that's been put in the cupboard !!